A LIFETIME OF TRAVEL AND ENTREPRENEURSHIP
Interview with Nicolai Canetti, entrepreneur, designer and citizen of the world.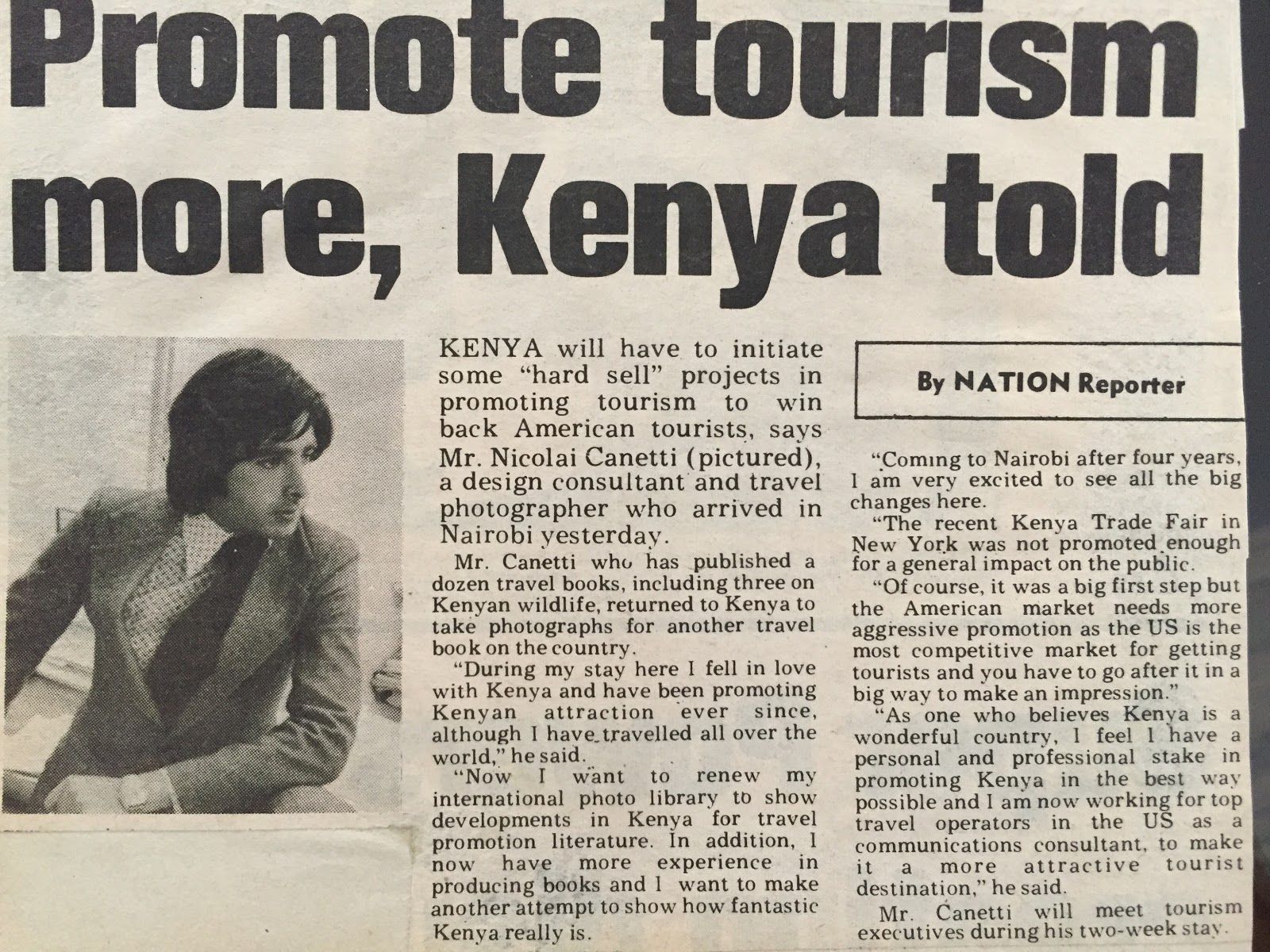 Over an epic Greek lunch of fresh seafood in Astoria, Queens, I interviewed my dad, Nicolai Canetti, on his life as a serial entrepreneur and traveler. He was born in Cluj, Romania in 1946, moved to Tel Aviv, Israel in 1959, where he went through schooling and after joined the army service. He then lived in Kenya for 4 years before moving to New York in 1974, where he built himself into a man of many careers and opportunities...

You're a citizen of the United States, European Union and Israel. Do you feel that you are more of one citizen than another?
I don't feel more connected to Romania, Israel or the US as a citizen. I've never felt 100% local anywhere. I adapt to where I am by being able to speak the language. A lot of international people come to America and move into local neighborhoods with people from their country. I never did that. I just melted in.

But is that ever isolating, to feel like you're not completely connected to a place?
Why can't I be a citizen of the world? We have similarities instead of differences. As a kid, I was bullied in Romania because I was Jewish and then I was bullied in Israel because I was Romanian. But when I was older, being a mish mash let me be many different people. I can be American when I need to be, French or European when I need to be, or Israeli. The only thing is that I have an accent, but it helped me meet girls like with your mom...

Haha, well I'm glad the accent has worked to your benefit. After going to school in Israel, you went to the army, did you feel a strong sense of nationalism then?
Yes of course. I wanted to be Israeli, I didn't relate to Romania at all.

Do you feel any connection to Romania?
Food.

Me too! So after the army you didn't go straight to Kenya, you went to art school. How did you decide to go to art school?
At 20, I applied to Bezalel, an art school recommended to me by my art teacher. I had helped to paint murals while in boarding school and really enjoyed it. I didn't even get in at first, and I applied to be an airline steward, and then got off the waitlist for art school.

I forget what you studied exactly...
Graphic Design for 4 years. I spent the summers working in the United States at a summer camp as the art, dance, Israeli folklore counselor.


The Israeli camp counselor at my camp taught riflery. So you moved to Kenya after school? Did you know anything about Kenya?
I knew absolutely nothing about it. It was by chance that I went to Kenya. On my way home from camp, I stopped in Paris to see my Uncle Felix. His cousin, Nathan, was a professor at UCLA's art school. He was starting a new department in Kenya and asked me to join.

Cool. And you taught Graphic Design and Photography?
Yes. On a one year contract, I made $3,000 a year. It was then that I changed my name from Nicolae to Nicolai so that I wasn't obviously Romanian and could be from any European country.

That's when you changed your name?
Nathan told me to, we already had a Romanian in the department.

Wow. Well, so you I guess that answers my next question. When people asked where you were from, where were you from?
I was French, Israeli, European, with all the languages I could get along with anybody.

Did you like living in Kenya?
I loved it there. I started doing advertising, doing my own photography, so I stayed. Nairobi was full of ex-patriots and professionals from England, India, and America.

It was also a period of life where I think I could have been anywhere and it'd be fun. Even though I was young and poor, I didn't need a lot of money to feel like I lived an extravagant life. I could do anything there... fly small planes, drive a jeep, go to the casino...



Can you tell the story about the exercise you did with your students about expression?
I'd never taught before so I created my own projects. I did one about expressing feelings on a piece of paper with symbols. They didn't quite understand, so I gave an example: take your page, take a circle, a triangle or square and put it in the corner, and that's loneliness. A student raised his hand and said, "But this is a waste of paper." To me that always really described the difference in where I was, all these students were from villages with no money, it was such a significant difference in mindset.

For sure. So you moved to New York City, why did you want to move to America? As a foreigner, was it because you believed there would be opportunities here?

I moved to NY on a fiancé visa with my then fiancé, who is not your mom. I could have moved to Paris where our family was. But, I was working in advertising in Kenya and then I couldn't get hired in America.

Why?

For a few reasons. A lot thought that because I was not American, I didn't grow up with the right mentality to relate to consumers. Also, jobs were very specialized and I was versatile in skills. ​
What'd you do?
I did freelance from 1974-1976. Then I became full time at Madison Ave, one of the then two magazines for the ad world. They called ours "the pretty one" and I was the art director. Through this I met tons of publishers and came on to do 18 books on places around the world and country. I did the photography and the book design.

When did you start Canetti Design Group?
I wanted to make a Count Sheep book, and no one wanted to do it. In order to sell a book in stores, you need an ISBN number, so I registered my own company to publish my book. I did that with everything. I didn't want to look for companies to create what I wanted to create, I did it myself.

I wonder if it was easier in the 70s and 80s to create companies and new products because there wasn't as much competition and so much stuff available.
Maybe, it's possible.

What advice would you give someone who wants to pursue their own venture?
Go do it. There is so much failure that goes along with starting a business, but if you take advantage while you're young, you have nothing to lose. I had to give up Canetti Design Group for a while when you kids were young because I had to think about our mortgage and your education, they were more important.

When Romania joined the EU, you got ownership over land that was your father's, and you have been working there ever since trying to be part of their growing development. Do you feel more connected to Romania now that you spend a lot of time there?
Not really. But yes, there is opportunity everywhere and there are a million projects and opportunities to try.

Totally. So, you've traveled most of the world, what's your favorite place? You can have more than one…
I love Kenya as a country and a beauty. It os paradise on Earth. 360 degrees of sky, flowers, the temperature. I love Paris as a city, the looks, the food, styles of the cafes and streets. I had good friends there. And I love Istanbul, it's an interesting merge of old and new. And I love Jerusalem, it's very beautiful, very old.

Where would you like to go that you haven't been?
South America to Argentina, Cuba, more of Africa.

As kids, you always made sure to take us to a new place every summer. Why?
I wanted you kids to feel more connection to the rest of the world and be like me.

Seems like it worked to some extent :)