CONSCIOUS CAMPING IN MOAB WITH SOUTHWEST JEEP ADVENTURES
Travel Under The Radar Interview with Emily Thompson, the Founder of Southwest Jeep Adventures in Moab, UT. Read her story, what she hopes people will come to appreciate and respect from the desert, and how small Western towns can sustainably develop for tourism with conservation in mind.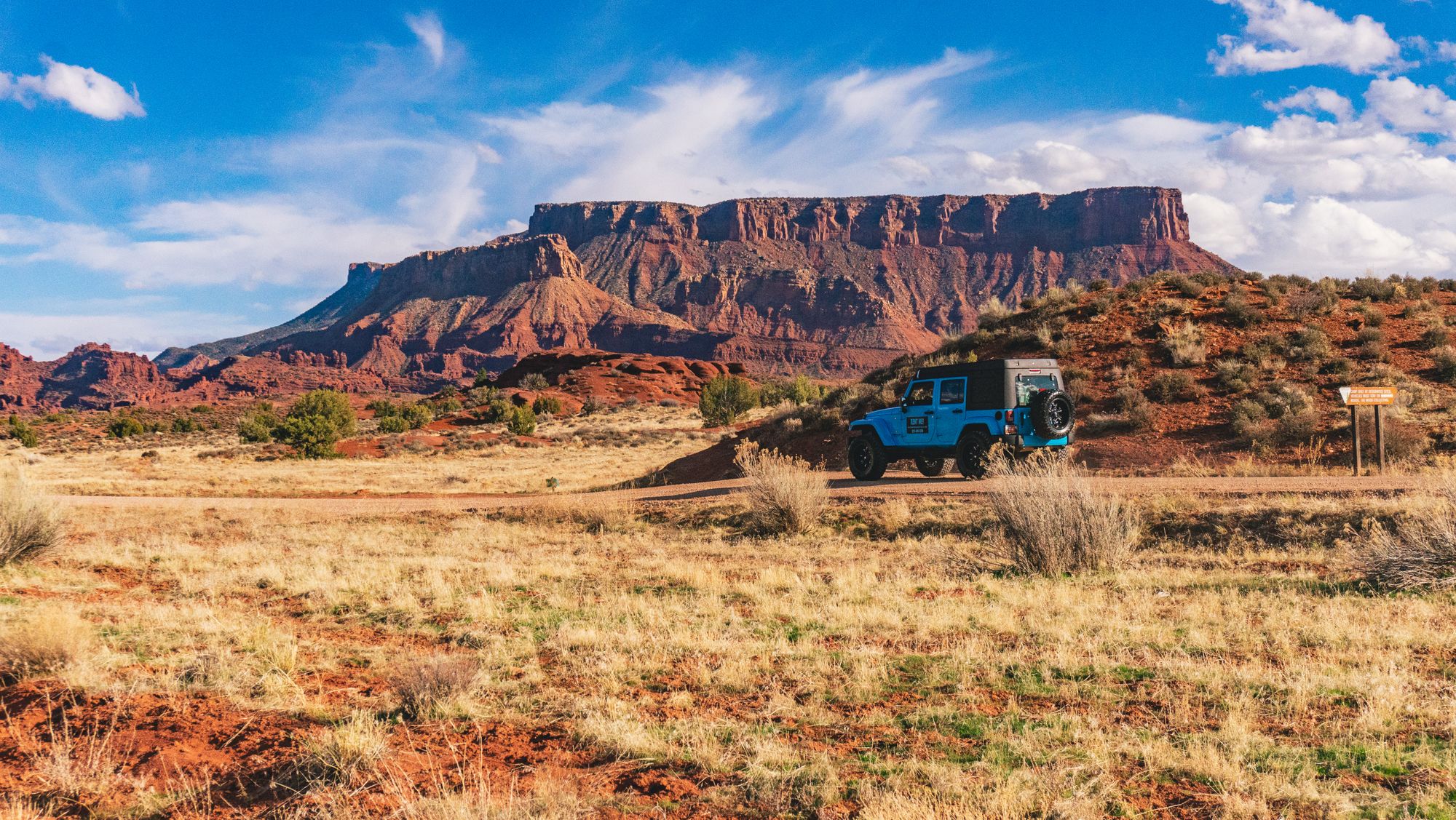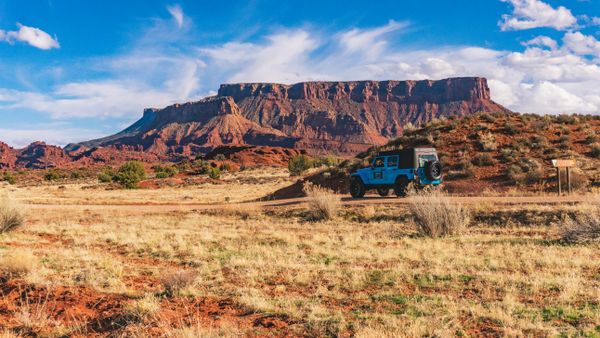 ---
I interviewed Emily Thompson, the Founder of Southwest Jeep Adventures in Moab, UT. With a career and passion for restoration, conservation, and the Southwest, she created Southwest Jeep Adventures to share the beauty of the region with travels in a sustainable manner.

Through our conversation, she shares her story, what she hopes people will come to appreciate and respect from the desert, discusses the increase in tourism development in small Western towns, and shares inspiring work and pertinent information around the economic pressures on these ancient environments.

To begin, tell me a bit about yourself, your career journey and how you came to create Southwest Jeep Adventures:
I grew up on the Gulf Coast of Texas. I hunted, fished, raised cattle for 4-H in my small town. My love of the outdoors was unique, as Texas has a lot of private lands as opposed to public lands. I wasn't hiking and camping, but I was always happier outside. Looking back, my childhood gave me a good starting point on what conservation means - we'd hunt deer and raise cattle for food and that experience gave me an unconscious understanding of how we exist with the land.

After studying business as an undergrad, I did the whole 9-5 high heels corporate advertising work, but after a few panic attack and a year later, I knew I was not where I was supposed to be. I needed to be outside.

I got an internship with the SCA (Student Conservation Association) to work at Lake Mead National Recreation Area to work with native fish populations in the Colorado River. That position changed my life. From there, I was able to volunteer on a Grand Canyon research trip on the Colorado River, working as a technician, and fell in love with the region and spent the next five years living and working in Flagstaff, AZ.

It became clear that I wanted this line of work to be my career, so I went to the University of Montana for an MS in Environmental Studies with a focus in Restoration Ecology. While in Missoula, I worked for the Montana Department of Natural Resources doing forestry work and led educational and other field trips with middle school and college students.

After school, I went back to Flagstaff, AZ and began a job at a nonprofit called the Grand Canyon Trust. That's where I've been for the last 10 years. Working my way up the Volunteer Program, leading volunteers in conservation projects all over the Colorado Plateau. We did hands on conservation work: restored streams, built fences, and conducted research projects on climate change in the largest Ponderosa Pine Forest in the world. Now, I work with the Trust's Development Program to connect our donors to the lands we are working to protect by taking them on four day excursions out on the Colorado Plateau.
​
A few years ago, I was itching for a new adventure and challenge. I took a paid sabbatical and went to Hawaii, where I surfed and rented a jeep with a camper top fully loaded with camping gear.

I thought to myself, is anyone doing this in the Southwest? The answer was no.

When I returned home, I bought a jeep and started renting it around Flagstaff - it worked! All the stars aligned for me to make a change. I was approved to work remotely for the Grand Canyon Trust, moved to Moab, UT, started Southwest Jeep Adventures… and then the pandemic hit.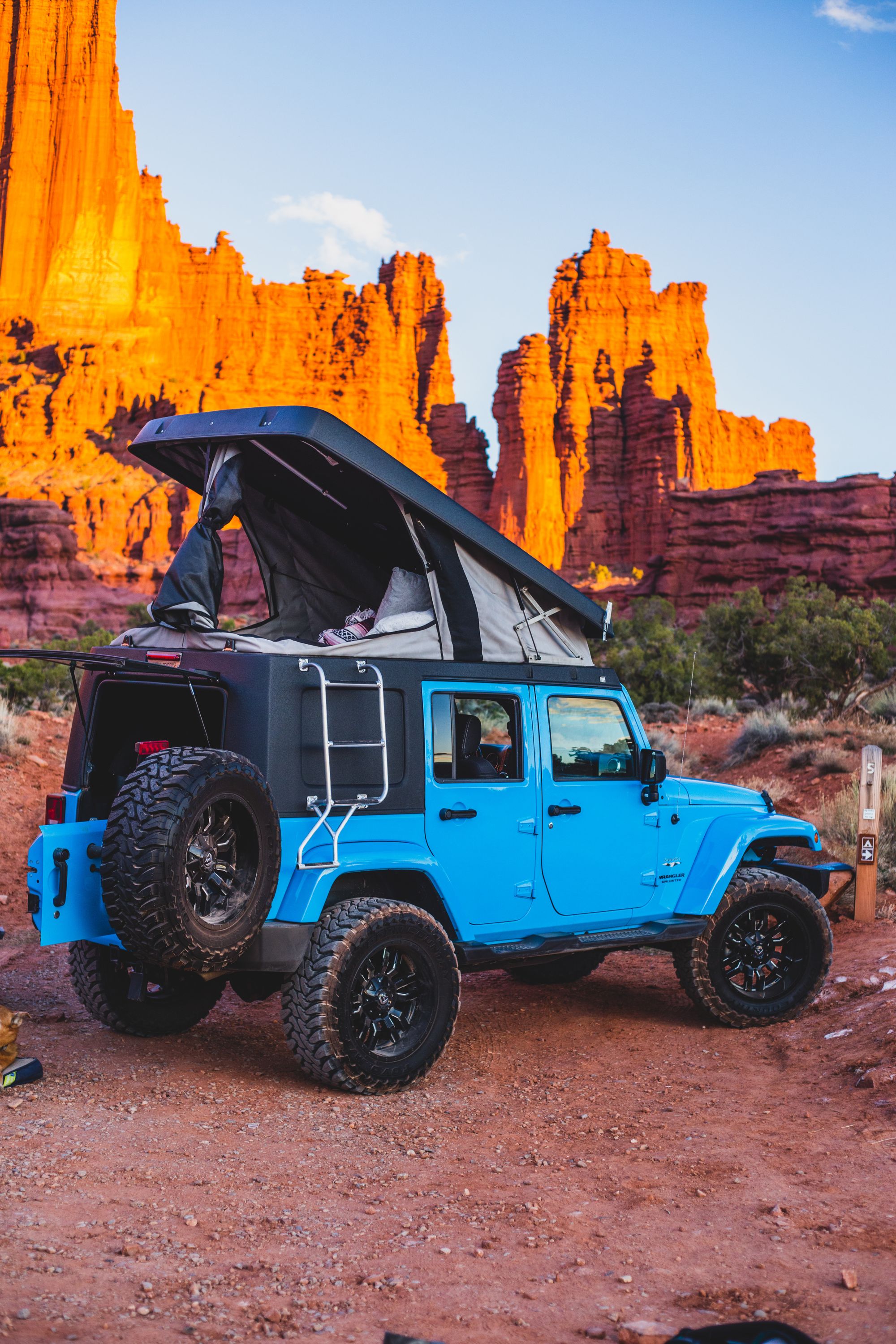 What do you love about the Southwest? As someone who has created a business for tourism and exploration - what do you hope your customers walk away with?
This place does not speak to everyone, but from the instant that I dropped down in the Grand Canyon, it felt like I was at home.

What is alluring to me are the extremes of the landscape - there's heat, cold, drought, the plants and animals want to scrape, scratch, sting and kill you. That can be scary to people but it makes me feel alive. The desert pushes you out of your comfort zone. When you can get off the pavement and into the wilderness, there's so much beauty and adventure to be had. I mean, you can literally walk through  geologic time when you hike to the bottom of the Grand Canyon.

I think humans today with all our creature comforts and technology have become really disconnected from the earth and we've forgotten how to interact with the land. I think it's the root cause of many mental and physical health issues. I have seen through my career what time outdoors can do for people - even for a night - it's very healing and takes you away from the chaos of life. It grounds you - literally. I want to help people get outside, unplug, build skills and confidence and have a new perspective on life. Selfishly, I also want other to be advocates for these places.


Tell me about land stewardship. What actions do people often take with good intentions but can actually be harmful?
Stewardship, to me, starts with acknowledging that humans and the land are not separate. We are very much connected. Once you adopt that mindset, you inherently will become a steward as you engage with the land and leave places better than you found them. For the common person to come out and go camping, it starts with practicing the 7 principles of leaving no trace.

Some things people do without knowing it's harmful are: driving off of a designated road, that can be very harmful to the desert landscape. The soil is a different ecosystem and it's very fragile here. In the desert, cryptobiotic soil helps keep the soil intact and retain water allowing plants to grow. People dig holes to go to the bathroom, which is a good thing, but they bury the toilet paper - or ever worse, leave it sitting on the ground. That paper will never break down in the arid desert. Don't collect firewood in the desert, that's a habitat to something.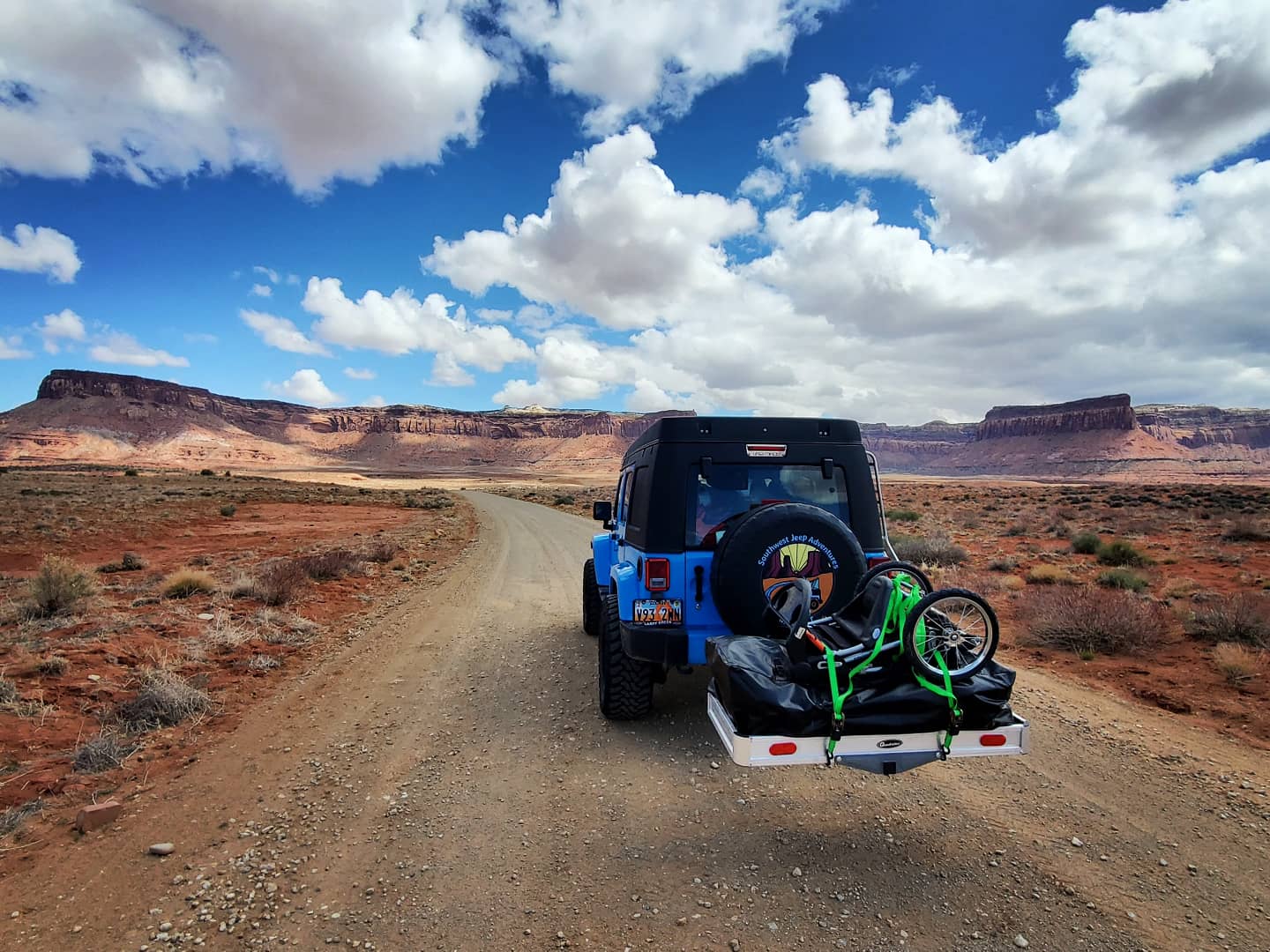 How has tourism grown in Moab, and as an advocate for the land, how do you marry sustainable development with an influx of visitors?
It's an interesting juxtaposition - I want to educate people how to travel and camp responsibly, and also be part of this tourism economy. Meanwhile, the growth of tourism in Moab means increased hotel development, and more visitors to a part of the country that is in a severe drought and seeing clear effects fo a changing climate.

Where water will come from to support all this development and tourism?

These are growing pains with small western towns - Moab, UT, Flagstaff, AZ, Durango, CO. We're depending on seasonal work staff but the housing market has blown up and there are no affordable homes. People aren't including rentals into the development projects and that's a huge problem right now. People are living in yards, tents, in their cars. But there are cool solutions coming out of that with programs like Community Rebuilds (funded by USDA), which is an affordable housing program for the local workforce under a certain income. You get to work alongside a team of interns build your own straw bale hybride home, sustainably sourced and designed.

From a business perspective, what aspects of starting Southwest Jeep Adventures did you have to learn on the job, anything you have come to enjoy or not?
It's all been enjoyable! Some aspects came naturally like budgeting, logistics, trip planning, interacting with people. I suppose what hasn't come quite naturally to me are related to technology - website design, learning how to be "found" online in Google searches, SEO, learning the software, spending time on social media. While I see the value in it, I don't love it and don't enjoy spending so much time in front of a screen.


You touched on it briefly, but you launched and then the pandemic arrived. How have you been affected by Covid-19?
Last year was a roller coaster ride! I had just moved to Moab trying to start a business that was essentially shut down. It was scary and I wasn't sure what was going to come, especially without an income.

When Moab reopened, the floodgates opened. Stating the obvious, people were looking for a safe and unique way to get outside, and I can offer that. It's only gotten busier this year. Typically March, April, May, September and October are the seasons for visiting the Southwest, but the heat isn't scaring people off this summer.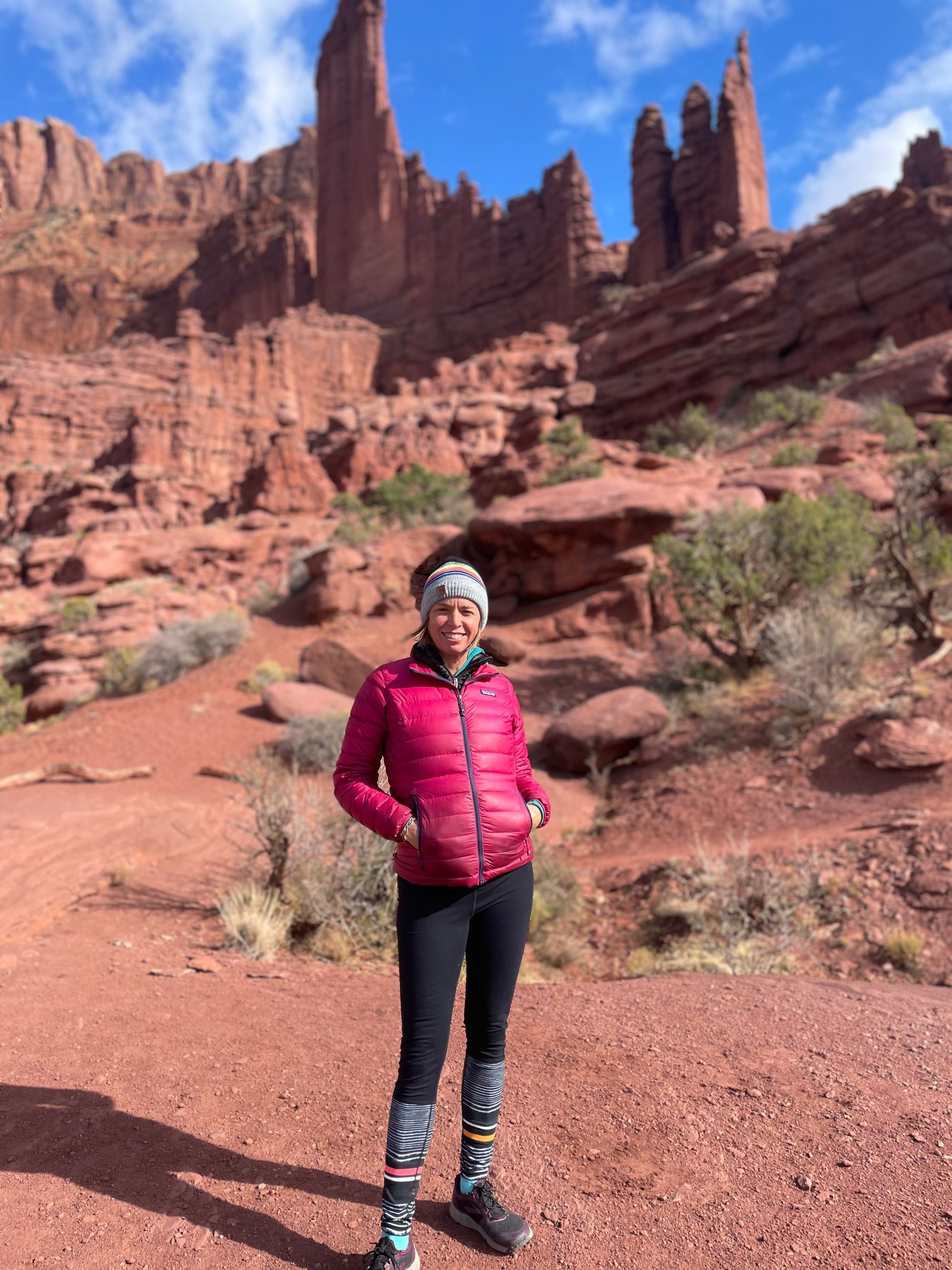 As a business owner, what has been the greatest challenge and reward of running your business, where do you see the business going?
If the first year was a test phase, and this year is implementation, the next 3 years will be a bit of a growth phase. Right now the plan is to add a vehicle this year and see how it goes. Realistically if I want to grow, something else in my life will have to give. So these are decisions I'll have to make.

What I'm enjoyed now is connecting with people in town and talking about potential partnerships - wedding elopement, private photography - things like that.

Where are your favorite campsites in the Southwest?
I can't give away my favorite places! But, there's so much around here:

- San Rafael Swell

- Grand Staircase-Escalante National Monument

- Bears Ears National Monument is a collaboration of many tribes and non profit organizations that advocated for that monument designation. The landscape is very spectacular. I hesitate to draw attention to it, it's a classic case of a government agency that is underfunded, which creates problems trying to manage the resource. Once you call attention to a landscape by creating a National Park or Monument, you then get more and more visitation. There's not enough education and signage to keep people from impacting the place, or stealing artifacts, which is a risk of being designated a protective land without the proper planning, staffing and funding. Friends of Cedar Mesa is a really amazing non-profit group working to bring awareness and protections for the Bear Ears region, These "friends" groups are often a solution to help underfunded public land agencies accomplish important work.


Are there any resources, companies or other that you want to give a shout to that are doing important work in the realm of conservation and advocacy for sustainable tourism?

- Cadillac Desert by Marc Reisner - an excellent historical account about how cities like LA, Phoenix, Las Vegas came to be through the water in the Colorado River.

- Authors: Susan Malloy, Craig Childs, Edward Abbey - beautiful desert writers and activists.

There are some really incredible entrepreneurs on the Navajo Nation right now that are leading the charge of sustainable tourism:

- Shash Dine Ecoretreat

- Rez Cycling

Also, the Grand Canyon Trust has been instrumental with incubating some of these native entrepreneurs. The trust has a whole program called Change Labs, it's a business incubator program to revitalize the nations' economic development.

Learn more about Southwest Jeep Adventures and follow along at @southwestjeepadventures.