Food Security and Community in Gloucester, MA
Gloucester SaLT is a community project based out of Gloucester, MA for farmers and fishermen to collaborate together and with their community to bring food security to the Cape Ann peninsula.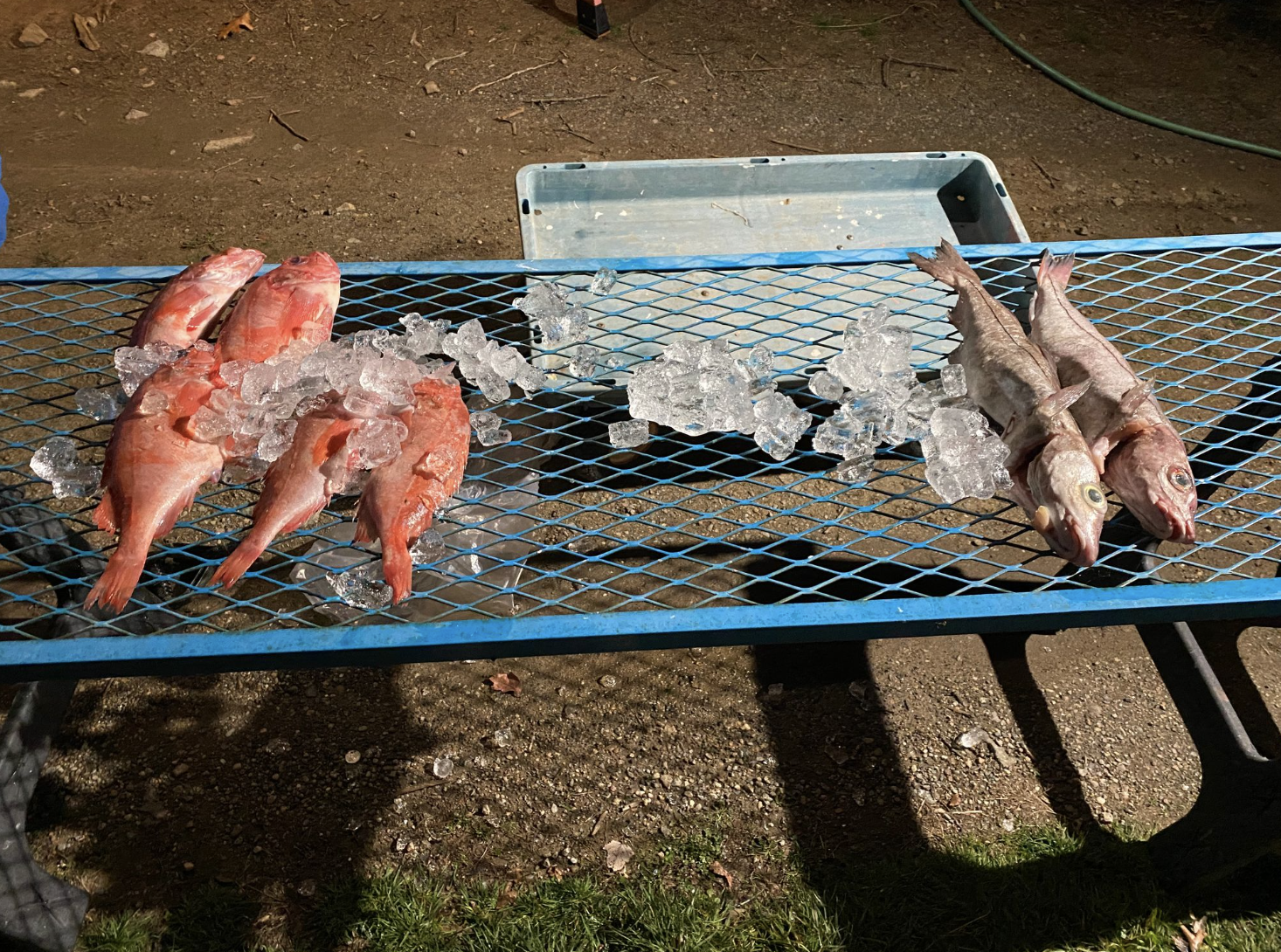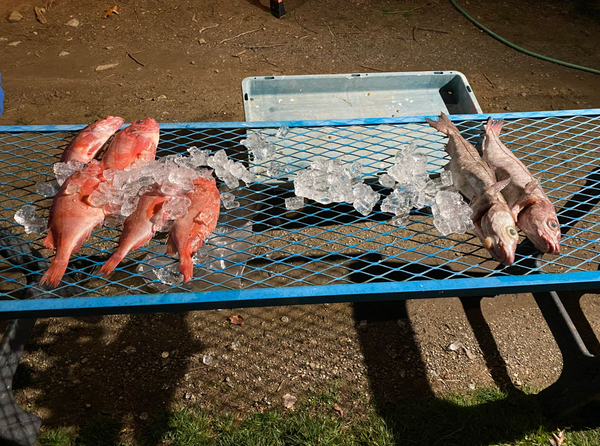 Gloucester Sea and Land Together (SaLT) is a community movement based out of Gloucester, Massachusetts for farmers, fishermen, scientists and community to collaborate together and with their community to bring food security to their peninsula through learning, engaging and eating together. SaLT has amassed a core crew of experts to embrace the future and build an agile, local infrastructure for food security through a variety of training and education courses tailor made for the community, youth, and professional development.

For many reasons, this initiative is important - to prepare for an uncertain environmental future, continued policy changes that affect the land and sea that people cultivate on, and the economics of exporting and importing that take local, fresh food sources away from Gloucester.
What is food security?
Food security, which at its most standard definition by the World Bank, means that people have physical and economic access to sufficient safe, nutritious food to meet their dietary needs. This can resemble four different dimensions:
Available food – Is there a supply and production of food?
Affordable food– Is there a supply guaranteed at a price achievable for households?
Healthy food – Is the food sufficiently nutritious enough for individuals?
Stability – Will access, affordability, and nutrition be available now and in the future?
These topics of food security are highly discussed and worked on across the world. Access to food is a basic human right that governments and activists work tirelessly to secure. Yet, it is still one of the world's biggest challenges to succeed on, as politics and the global economy can strip places from being in control of their food sources, as well as the food best suited to grow in their environment. The topic of food security spans from global work like the United Nations Sustainable Development Goals, and Global Agriculture and Food Security Program to national initiatives like the National School Lunch Program, to the local programs like that of SaLT, which embodies the action of communities and small businesses coming together to educate and support food security.

Through the creation of SaLT, this team of experts in agriculture, fishing and science are sharing resources with each other, and helping their community members take better control over their food access. These community classes covered these topics well – providing people with the tools and knowledge to create gardens, make in-season produce and protein purchases, and how to make use and cultivate the most nutritious aspects of food.
Community Courses with SaLT
In its nascency, SaLT has put their focus on the interdependence of land and sea in Gloucester's island environment. I was lucky enough to attend one of their premier training lectures in November 2022, in which a few of the expert fishermen and farmers invited the community to learn practical skills in protecting and nurturing their local food supplies. These initial classes included:
Learning about local fish species & where to find them
Identifying which plant species grow well in the local environment
How best to use fishing & farming tools all year round
How to preserve & process vegetables through winter
How to prepare & utilize a whole fish for meals
Classes are hosted at Cedar Rock Gardens, a farm that focuses on seed plants, greenhouse grows, and sells their vegetables and flowers via local delivery, retail stands, to restaurants, and offers a seasonal CSA program. Cedar Rock Gardens co-founder and farmer, Tucker Smith, facilitates courses with Captain Joe Sanfilippo of Extreme Gloucester Fishing, a long time Northeast Commercial Fisherman and now consultant and trainer for the next generation of commercial fisherman in Gloucester, and Bart DiFiore, a marine ecologist and Gloucester native.

This spring, SaLT is back with a 4-pack community series, in which community members can learn actionable skills for their home gardens, how to source locally produced and caught food, as well as how to easily cook and enjoy these items. Classes are $60/per class, or $200 for the entire series, and run over the course of 4 weeks each Thursday at 6pm for 2 hours. But if you're lucky, you'll stick around longer and enjoy the food and conversation like I did.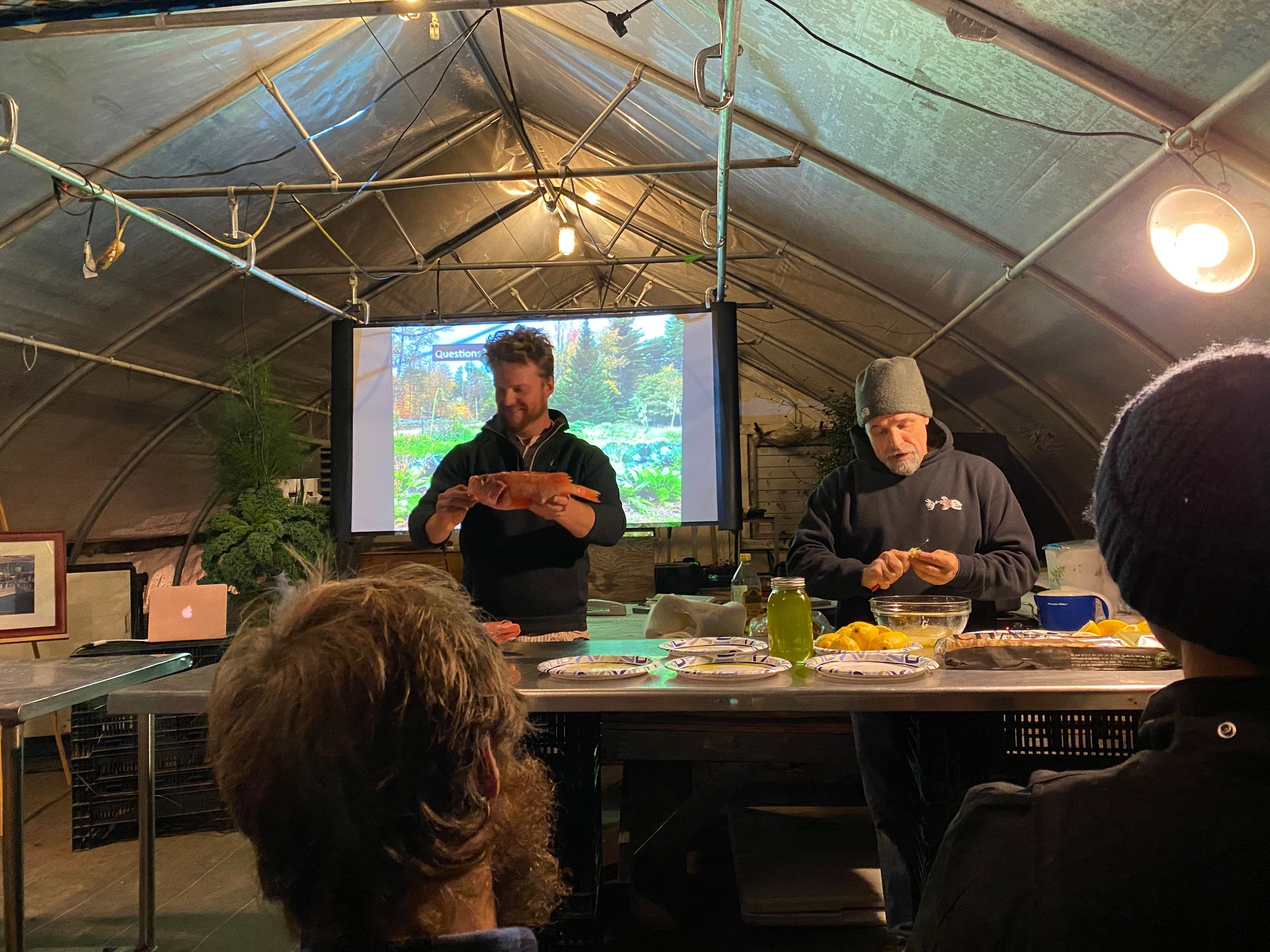 These courses bring together local industry experts to strengthen partnerships and share knowledge to the community. As an attendee in their first course pack in November, the class I attended was a mix of the third and fourth course in the April package. We covered options for storing vegetables through the winter, and how to cut, gut and prepare a whole fish, the range of takeaways from participating in a 2 hour class were immense.
The first half was a seated presentation that went through crop types that grow well in the local environment, and the variety of ways to keep vegetables through the cold months. From jarring, fermenting, canning, freezing, cold storage, dehydrating to what crops (parsnips) can stay in the ground through winter these were actionable and doable recommendations for even a novice gardener.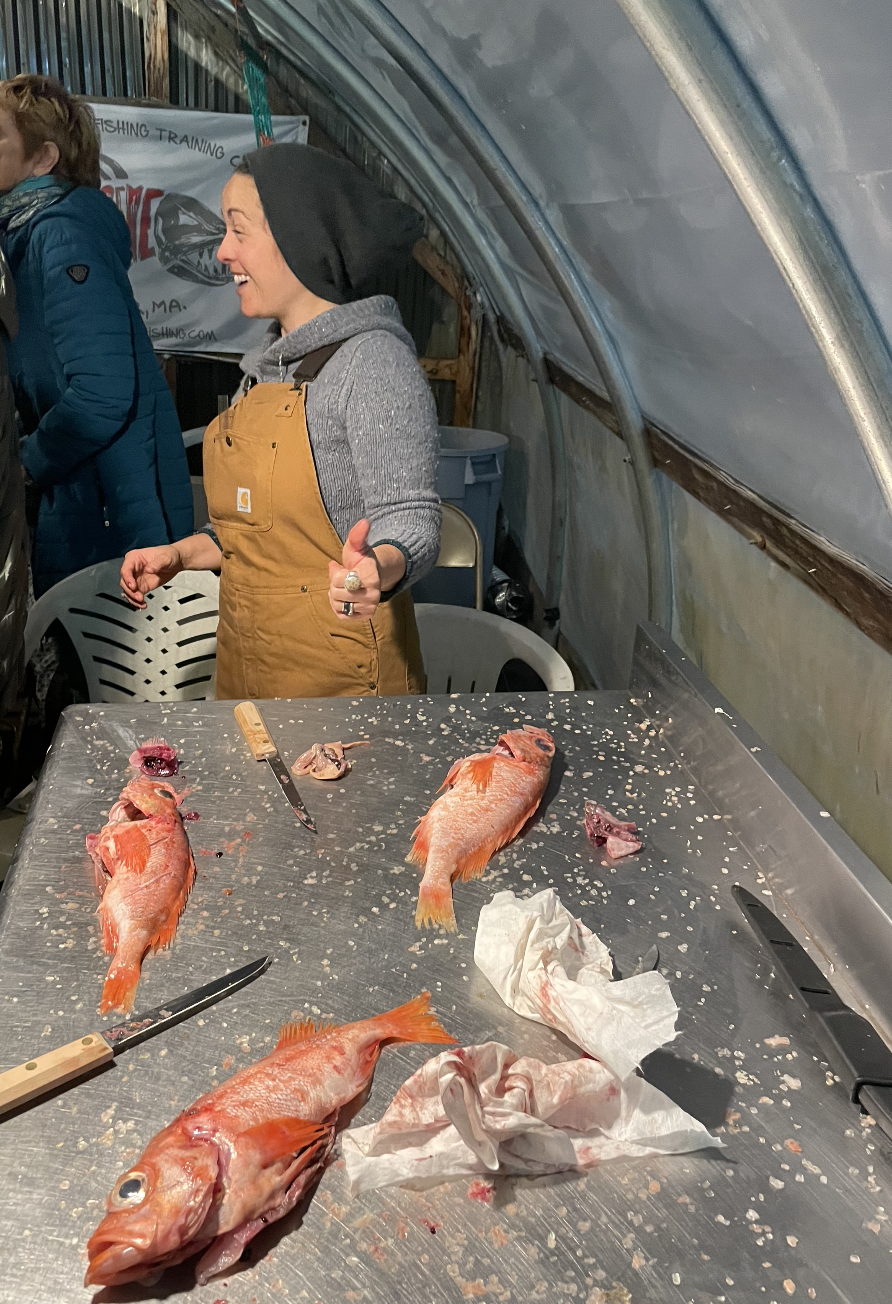 The second half of the class was an experiential activity on how to utilize whole fish, and why consumers shouldn't shy away from purchasing a whole fish. We prepared and cooked red fish and haddock, two abundant species off of the Cape Ann shores that are affordable, available, and healthy for the local community. Through simple recipes and preparation, we quickly cooked a delicious meal, and learned about how to get additional use from these fish, like saving water turned fish stock after boiling haddock.
The takeaways from class ranged from philosophical, broad and societal, to individualized actions and choices that people could take to support a more sustainable lifestyle. From discussions on commercial fishing, regenerating the sea life off the coast of Massachusetts, the legality of selling fish directly from the dock, the Farm Bill, and witnessing the pride of their craft and love of simple, fresh food that we can all certainly agree on – attending SaLT was a welcoming and inspiring experience.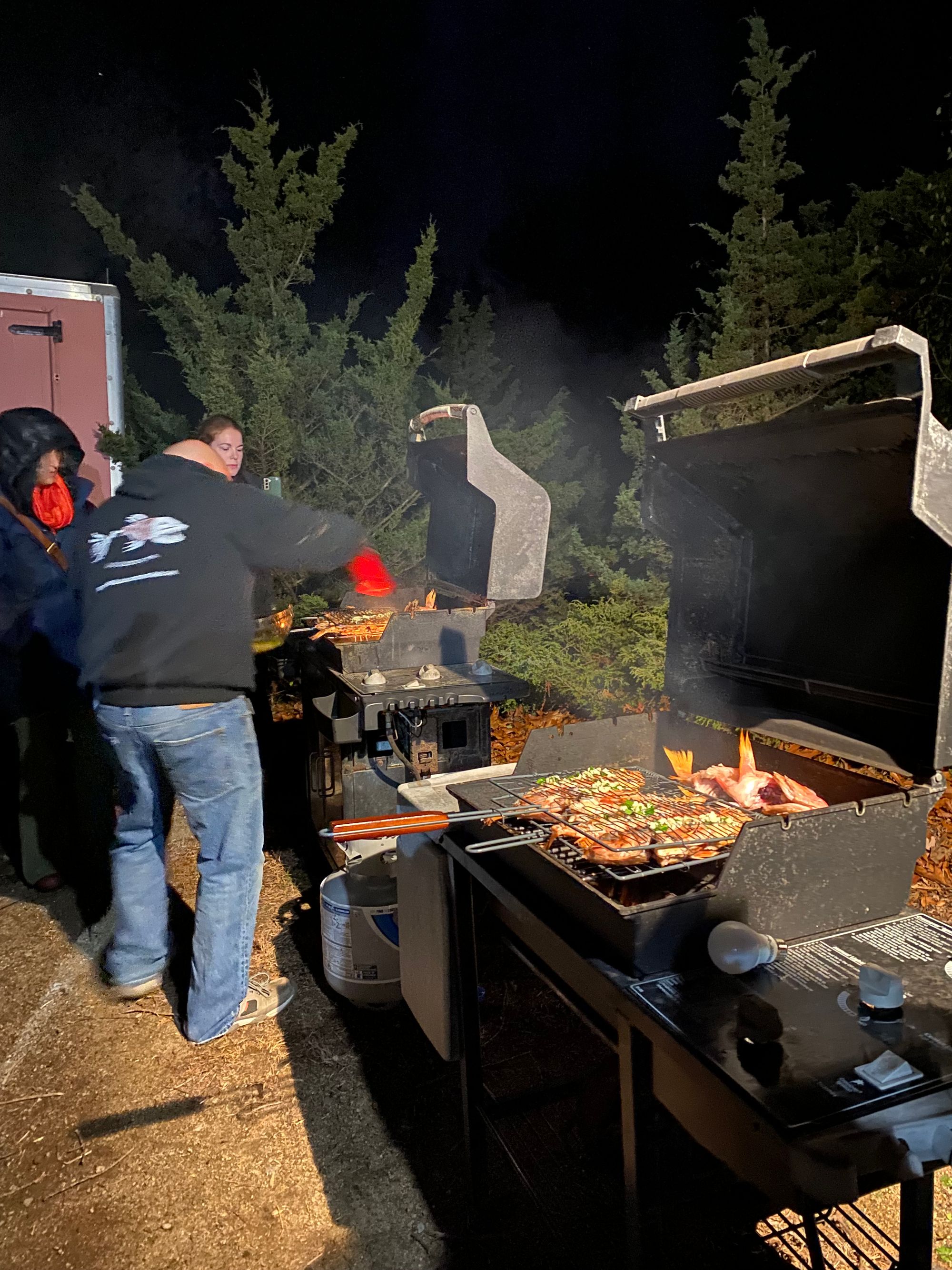 What's next for SaLT in 2023?
Looking into the rest of 2023, SaLT has a lot more to offer. They are presently coordinating Youth Courses, and Professional Training Courses that will bridge the gap between generations to share knowledge and keep these traditions alive and well in Gloucester.
SaLT has taken a humbling community approach, with an appreciate for food and coming together to share and enjoy and make a concerted effort to create a hub, market and training center for the entire Cape Ann community through hands-on learning and conversation.
Stay tuned, as there will be a lot more incredible initiatives launching from SaLT this year. Follow along on Instagram and Facebook, and if you're in the region, stop by a class if you can or connect with the team!