ANCHAL PROJECT, A FASHION BRAND EMPOWERING WOMEN
An interview with Margaret Clines on founding Anchal Project, a non profit social enterprise empowering women in India and creating beautiful artisan home goods.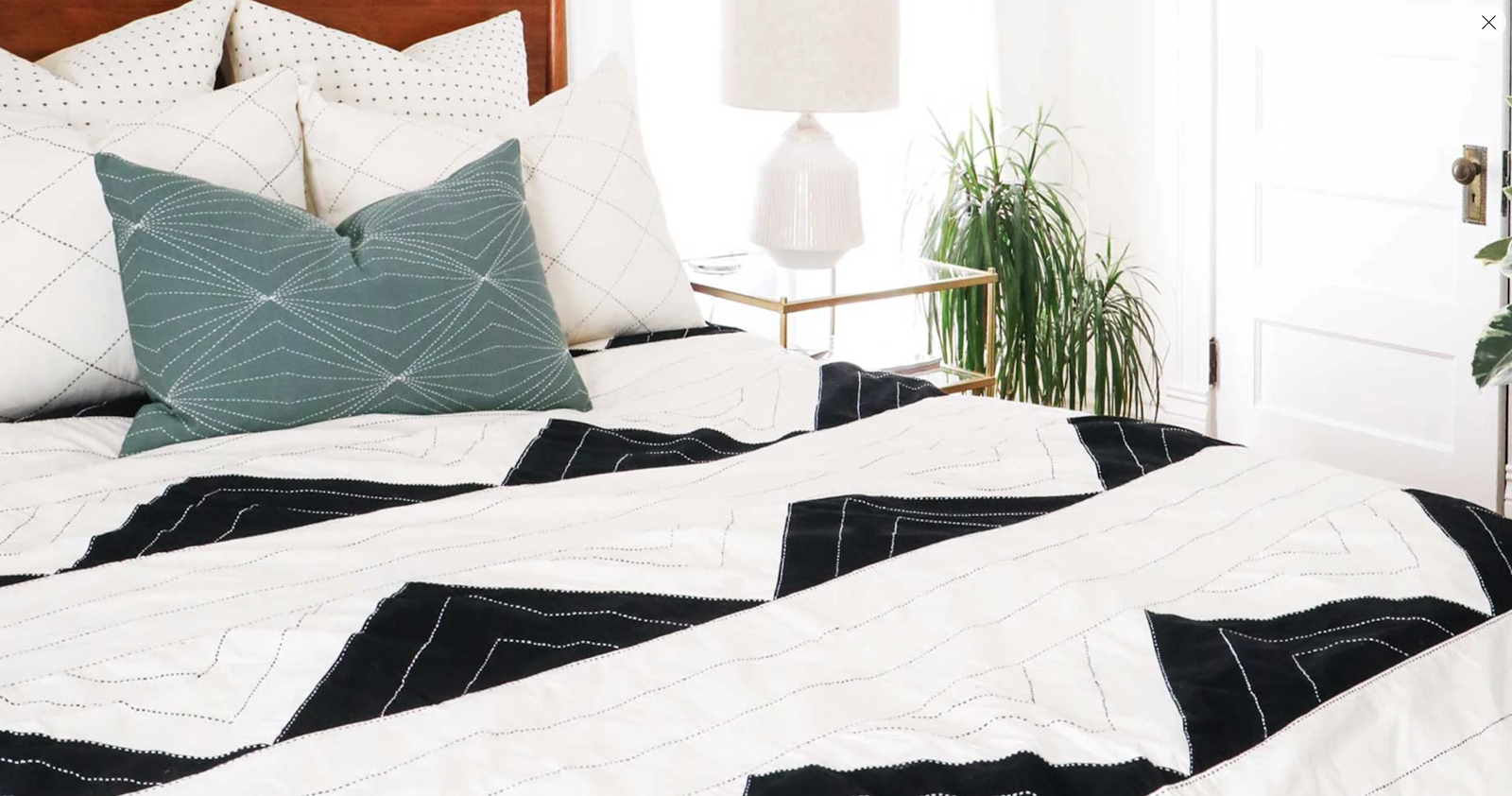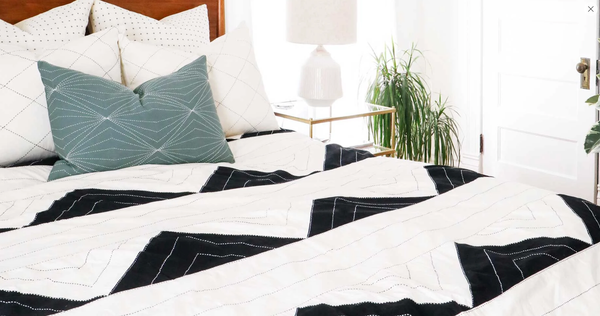 Margaret Clines is the Creative Director and COO of Anchal Project, a nonprofit social enterprise that addresses the exploitation of women around the world by using design thinking to create employment opportunities, products and markets that support empowerment.
​
To begin, let's start with a little background on you, and how you have gotten to where you are today.
10 years ago, I was in Architecture School at the University of Kentucky. At the time, my sister, Colleen was in graduate school at RISD. She took a seminar on design for development, which led her to India. That is where Anchal Project began.

The prompt for her class was to design a product with textiles that would benefit a community in need. That changed the trajectory of both of our lives. We began by partnering with an NGO in Kolkata, New Light, that aids women who are part of the sex trafficking district there. The original gist of the project was to take traditional textiles that women could make from home and sell them stateside.

Once we graduated and moved back to Louisville, we gave the concept a shot together, trying to merge design with social good and community empowerment.


Was there something that you saw in the textile industry that you wanted to disrupt specifically? How did you transition from architecture to running a nonprofit?
When we first started, the main journey was the social impact. Textiles were not something we were well versed in, but it was a natural fit given the environment we were working in.

The first couple of years, Anchal was our other job. We knew it could work and be a business, but it took time for us to learn. Once we understood home goods and accessories, we started evolving our product offerings. The story of Anchal expanded from there as we moved to Jaipur and partnered with a different NGO in the city of Ajmer, where we now work with over 160 artisans.

We used recycled saris for our quilts until 2016, now we use GOTS (Global Organic Textile Standard) cotton. We switched out of the vintage stuff because the market had become saturated. In 2010 we started and by 2016 we knew that if we wanted to expand at the business wholesale, we needed custom products and newer fabric that we could control.


What's the set up of your team now?
At this point, we're pretty structured. We have a team of 6 in Louisville, and within the NGO we have our Director, Manager and 11 Project Assistants who handle the coordination of the product process. They distribute the work to all 160 artisans, while we connect with the Director once a week. Colleen and I travel to India yearly to conduct design workshops. Our new artisans start with quilts, and then graduate to senior artisan after 3 years. From there, they can create more complex pieces and eventually some artisans become Project Assistants.

We spend time honing in on how to enhance product production and improve the program. It's a very functioning and beautiful partnership at this point, and we are proud of how it has grown.


In working with your sister, Colleen, how do you find your roles to have evolved?
In the beginning, we were 2 young 20-something year olds. It took some navigating but we work really well together and certainly know our greatest strengths, weaknesses and buttons to push. Colleen is a big picture, big idea, grand gesture type of person. She thinks in a much different way than I do with lots of ideas and wonderful thoughts about the future, creative ways to do marketing and pivot the company.

I'm more technical, finding ways to be creative without restraints. She pushes me out of my comfort zone and I pull her in to keep us moving. We both studied architecture, and our work ethics resemble them. Colleen studied landscape architecture, which is more flowing and natural, whereas my studies were more controlled.


Design Thinking is a huge part of your making method. What problems have you solved with Design Thinking?
We use Design Thinking for product development and program expansion in India. The process is that it is flexible, open, and a safe environment to create. If you have a problem, you go and listen to customers and artisans. Learn to collaborate while keeping empathy at the center. If you get too caught up in perfection, you'll get too caught up with what you're doing. We do a lot of ideation, throwing out as many thoughts as you have, not trying to be perfect.

Design Thinking is a never ending cycle. It allows us the opportunity and freedom to design and create while not being afraid to say it's not finished yet. It's constantly being able to improve.

Over the years, we started with one product, the quilt. Looking at it as a design challenge: what can artisans complete with their skills? At that point it was limited to simple running stitches. We thought, what if we change the dimensions, what can we create? Slowly we introduced new products and challenged them with new techniques, designs and patterns. You wouldn't know it, but the zipper was our biggest celebration. Once we mastered it, the door opened to creating a lot of other things.

So many traditional businesses think in the mindset of, "I have this idea and where can I get it made?" But from the beginning and why we aim to be a nonprofit, we started with these women deserve a dignified job and respect, how can we help that?


You've made an impact in the artisan communities through skills training, employment, education, and health. Could your method and program be employed elsewhere?
We've learned in addressing systemic issues that you won't see the effect immediately. It takes a lot of work and flexibility. For us, we don't have investors, we don't have extreme sales goals to hit, our work is focused on the artisans and the program. While we love textiles, at the end of the day it's about the artisans.

The early effects were being able to afford fresh fruit, send kids to school and do home improvement projects. Now our artisans are buying cell phones, jewelry and investing in themselves. It is the coolest thing to see that point of empowerment.

Now these women are primary breadwinners and have more control over their situation. It wasn't easy in the beginning, some husbands were alcoholic or abusive, many women have never left their neighborhood. It took time, but within the first 4 years things started to shift. Seeing the successful stories of our first artisans, women could speak to the benefit and recruit their friends. Women in India are meant to be home cooking and cleaning, so mother-in-laws and husbands were reluctant at first. Some of our makers have been with us 9 years, we printed photos of their work on Madewell storefronts, and their families finally understand where their products go. It brought a lot of respect, none of the families can complain about the financial gain of being in the program.

Our model could be taken elsewhere, as long as it's independent and run by local community leaders.


You've had some amazing collaborations with the Guggenheim Museum, Madewell, and Urban Outfitters to name a few. Tell us about them.
We've had the honor of working with Urban Outfitters, Madewell and Anthropologie, all of which are incredibly supportive and understanding of our company and mission. For us, when we evaluate partnerships, it's important that they believe in the integrity of the product's value and story. We work with brands and challenge them as well, we want any chance to bring our company and mission to the masses, and to encourage a consumer to make a purchase and then make another.
How have you found "fast" fashion, or larger retail to react to mission driven "slow" fashion brands.
Fast fashion is frightening and we do fight against it. We believe in less, we believe in a longer life cycle of a product, a couple of years, not months. We have heirloom quality pieces meant to last a long time. It's an investment. When things are extremely cheap, someone is getting exploited in that process. So, it's important to tell the story, and not just that the price point means fair wages, but also crafting artistic and unique pieces. We tag all of our products with a hand embroidered tag of the maker, a story of empowerment.

As a small company, we use scrap material and then have to engineer a way to design products around the sizes we get. I can see why larger companies can't or don't take the time to figure out how to use all parts of the textile, thus leaving waste behind.


As a consumer, it's one thing to know about slow fashion, but another to be able to make the financial choice to purchase. How do you suggest combating that?
When you start to question who made my clothes and how the world operates, you as a consumer have a strong voice and decision making ability. The power is in the purchaser, especially right now during the pandemic. Share with people where you put your money. A lot of businesses are struggling, especially fair trade, but we have the power to keep people going globally.

Breaking that mental cycle takes time, something you can't buy from an ethical brand. But we can't be hard on ourselves as consumers, it's one decision at a time. Just challenge yourself to make a better choice next time. Not everyone has the ability to purchase, especially with the price point, so save up for that comforter.


How have you found success in the way consumers react to your products or mission? Has anything surprised you in this regard?
Customers fall in love with our brand. From the beginning, we wanted people to buy because of the design and connect through the artisan's story. We used to tell the story first followed by the product, but that shifted in order to compete.

For the Guggenheim Museum partnership, they fell in love with both the design and the stories, and we were able to design pieces for them. When customers get to that point, you create a much longer lasting relationship with them. It clicks and it does make an impact, that fair trade products can be contemporary. We have some amazing customers. For us, we give them a surprise and a delight: a beautiful product with the wow of I just made a difference.


What has been the most rewarding and most challenging aspect to starting and running Anchal?
There are so many challenges. Running a tiny non profit as two young women was not easy in the beginning, it took time for people to take us seriously without impact metrics. We made a lot of sacrifices - personal, professional, financial - but knowing my work changes someone's condition in life was worth it. We knew in our gut that we were onto something, but it took time for people to care.

Everyday there's a new challenge and that's why Colleen and I enjoy it. We're competitive, we thrive under pressure - it works with our personalities.

There are also so many amazing things. From watching the impact shift and having a personal relationship with these women in India. They are who I wake up and work for every day. We have much more freedom than we would have had as architects, with more control over our future, and an impact we can see everyday. It's an amazing experience to not only be designing but also having a connection with those who create these pieces. It makes the world a different place.


In light of Covid-19, how are you continuing to stay motivated?
We were in the hiring process when Covid hit. It was lucky we hadn't hired new people yet because it kept payroll lower. We have an amazing and dedicated team of 6. It's a family both in India and in Louisville. Right now our operations team staggers the fulfillment process, many moved to work from home, and we are working on a contingent plan as wholesale dropped as boutiques closed and we couldn't bring in new inventory.

So, we've made a few pivots. We have a great website, and are focusing work there through social media advertising. And, we had a friend of a friend approach us about face masks. We weren't sure if we wanted to go down that path but we made some samples for wholesalers, launched a preorder and sold hundreds on the first day. Now we've produced 3,000 so far and that's just from us making them ourselves. India is on lockdown and will be tentatively through May 18th, but it may continue. It's scary because we don't know where production will be moving forward or how to fulfill orders or restock our products.

Since artisans are at a standstill, we've picked up the needle and started sewing. Through masks we can continue to support our artisans and their basic needs. Colleen and I are both on the sewing machine a couple of days a week, which is different, but we'll do whatever it takes.

We're optimistic and lucky to be in the home goods realm because for those stuck at home looking around spying their shabby pillows and needing new ones, we hope they'll shop from us.


For people, hesitant to move forward with their own mission driven business ideas, what advice would you give them?
If you are preparing yourself to start a business, acknowledge the fact that it will take a lot of grit and sacrifice and you have to be okay with that. People may see successes but not see the hard work behind it. You have to silo yourself and work without comparison.

We realized early in the game, nobody knows what they're doing and nobody has the answer. As long as you're moving and doing what you know - you're the expert in your world - so own it. Early on we were searching for people to help us and tell us what to do next, but we had to be the one with solutions.

Colleen would say you need to be able to talk about it. She used to feel like it was never good enough and didn't want to talk about our Anchal with others. As women we often reach for that level or perfection before wanting to be open about it, but you need to believe in your work and share it.


Learn more about Anchal Project, and follow their story along Facebook, Pinterest and Instagram.