FOUNDER'S STORY WITH MARSHAY CLARKE: BUZZOMS
Interview with Marshay Clarke the CEO of Buzzoms. Read her story: the launch of her first collection in a pandemic, and her goals and mission in the retail space.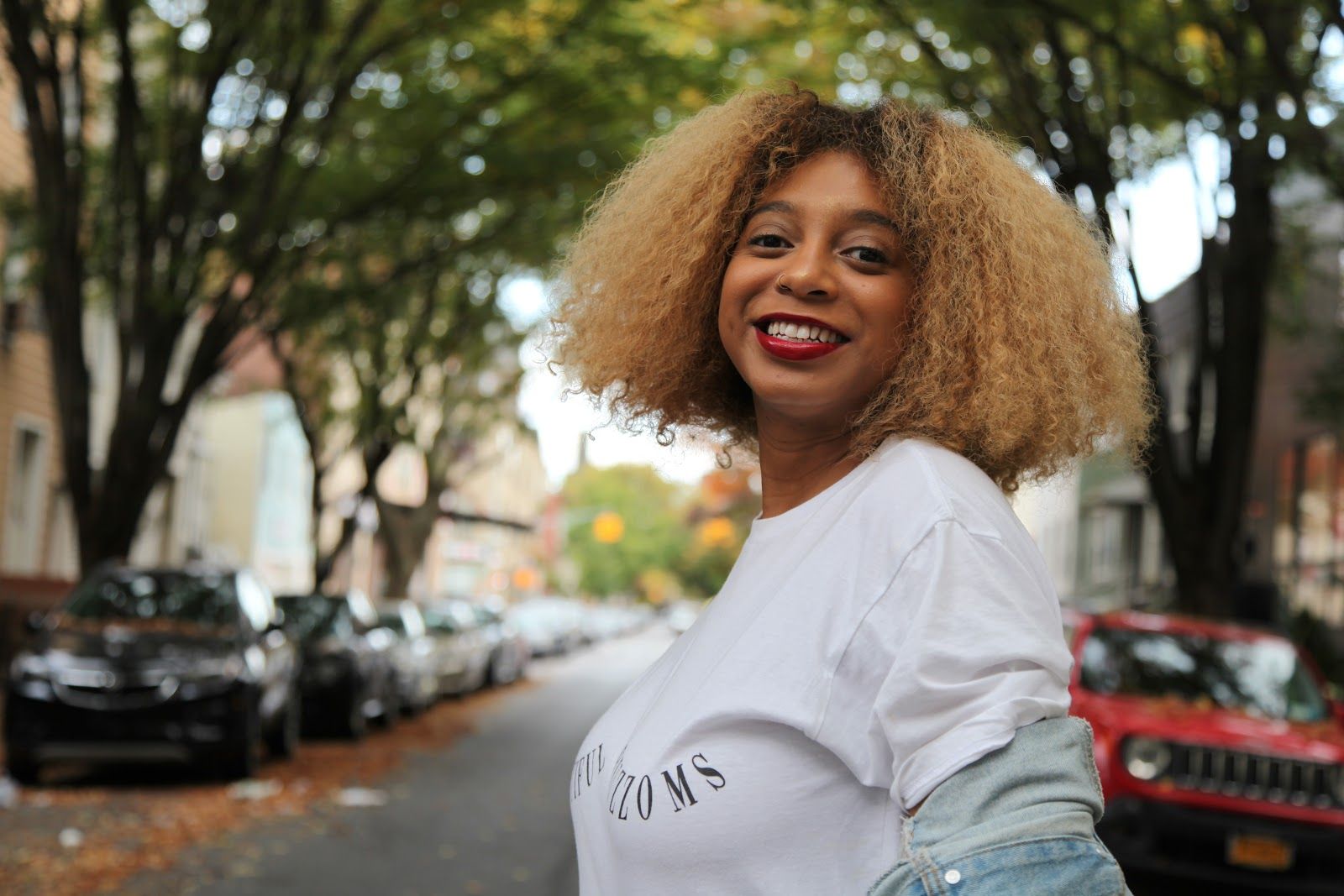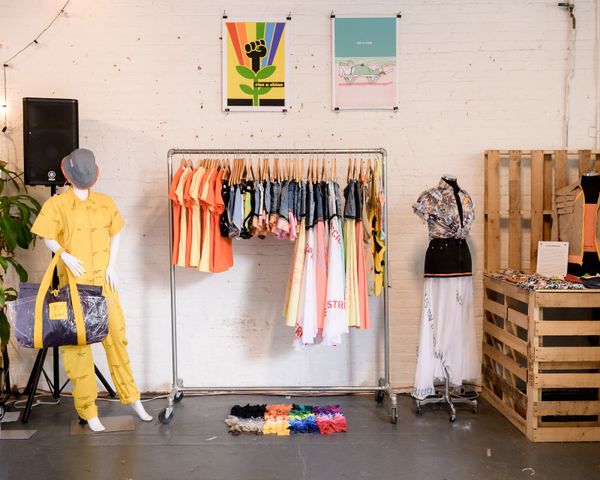 Marshay Clarke is the Founder and CEO of Buzzoms, a clothing line tailored to women with D+ breasts. All clothes were designed to be trendy, useful for everyday wear, and supportive of women's boobs while honoring their curves. About to launch her first collection, read her story, her mission in the retail space, and more.

What is Buzzoms?
Buzzoms began as an everyday clothing line tailored to women with D+ breasts. But it's already begun to evolve into a clothing company that every woman can relate to, recognizing that current sizing is fashion is a problem. We hope to be a company that supports all breasts and gives women with larger boobs the freedom to wear whatever they want. You can have clothes that support your breasts, where you can go braless, and that fit well!

There are many people with large busts who have standard waist and hip sizes, so a standard size large doesn't work. We're all shaped differently and there is no one size fits all solution. We're creating clothes with the modern woman in mind, we just want clothes that fit our bodies without having to contort ourselves.


How did you begin Buzzoms?
I've always had a large chest. In 5th grade I started developing and noticed that my body was different from others. I could still share clothes with my friends into high school, but I had these boobs - and thought, "Ugh this kind of sucks, but I'll deal with it."

Fast forward to business school, where I was focused on entrepreneurship in tech because of my startup background. But, during my last year, I took a trip to Ghana and had this experience after hanging out on the beach while in a bathing suit with my classmate We looked at each other and said, "Wow you have boobs like me! I'd never know." We discussed how we wore sweatshirts in class, and how challenging it is when your body is curvy to wear normal clothes without being sexualized.

I shifted away from the tech idea and went into the clothing business.


As you prepare for your first collection, how has it been going?
I had so many doubts in the beginning. It was safe for me to focus on technology.. But I spoke to many founders, who gave me a boost of confidence. Even though I didn't have a retail background, I was in business school, of course I could start a business.

So I practiced a better attitude to be comfortable with the things I don't know.

I've used a lot of educational resources, connected with designers, took classes online, had friends send resources, and signed up for membership groups on Facebook with other makers. I've worked with designers and manufacturers who studied and worked in fashion. And am thankful for my manufacturer who has experience working with startups.

It's all been a learning experience.


Where are you now in the process?
When you're creating clothes, there's a number of steps before you can go to market. First, you have to create the garment, by designing prototypes (in the business they are called fit samples). The prototypes are created in a different fabric then what it will actually be produced in because it's more affordable to do so.

For our first collection, there are 4 pieces that are in the pre-production phase. Once we receive them in the fabric and review them, the factory will have the green light to create in bulk. Then, we'll do a photoshoot, set up marketing and launch. We're hoping for an end of fall launch.


Will you introduce any sustainability methods of production into your line?
One thing I've learned is that you want to have a laser focus on your problem in your messaging to avoid confusing your customer. In the beginning, the problem I was trying to solve was about women and their emotions towards clothes. But, as I designed, it became clear that sustainability was also important to the women I was speaking with. So, our tank top design is created with recycled nylon, and that's my favorite fabric so far. And that's the direction we will continue on.

It's been a learning experience for me, and I've started with clearly naming our company values to keep us rooted into the sustainability conversations.


What are you excited and nervous about?
My customers! I'm constantly torn between optimism and validity, I want to make sure we deliver on what they need. I read about other fashion launches where dresses get sold out in 5 days, or Kickstarters that got funded in 5 minutes, which puts a big pressure on a successful launch. I've spoken with a lot of consumers out there that I know are interested in what Buzzoms is creating, so I know it will be good.

Every entrepreneur has those days when their head is spinning about what's next because we're so in the weeds on a day to day while also having to be a true visionary. Another concern is COVID, I'd like to do in person stuff but there are limitations and I just have to work with what I've got.


Speaking of, how has COVID affected everything?
The two biggest ways COVID has affected Buzzoms is from a production and funding standpoint.

Multiple times, my manufacturer has asked, what happens if we have to shut down because of Covid? We have to have a back up plan if we can't produce in time. Our production is done in New York and in Bogota, so our overseas dependencies are very much affected by Covid. From a funding standpoint, what I've heard from other founders that I keep in touch with is that it's tough to find funding if you're in a pre-revenue stage. No one wants to take a risk during Covid, whether you're a bank, investor or angel. So right now, everything has been self funded while I continue to speak with investors about the benefits of Buzzoms.

On the plus side, I do think customers are still buying things while they're home. So, at least we have that!

October is breast cancer awareness month. As a brand related to boobs, what role do you want to play in awareness?
There have been a number of people in my family who have been affected by breast cancer, so why would I not talk about the issue? It's important to elevate people and share their stories while we have this platform, through blog posts, and even more breast care education in the future.


As a woman of color and a female founder, how does your identity affect your work?
I think about the future state of my company often: who do I want to work with me? What will the dynamics look like? What kind of work environment and legacy do I want to promote? I see the future of our company being diverse and eclectic. I've been bringing people in to help me right now who are people of color, black and brown women who've been killing it in this space. I want to elevate them by giving them a chance for leadership in work and serving as a resource for other black women in entrepreneurship. I hope my leadership team is made of women, and women of color.

Today specifically, when I think about funding, I have to do so much to prove myself before someone is willing to look at my idea. And then, it's about boobs! It's so much more on top of just being a black woman for people to take me seriously. But, that's never stopped me before, it's business as usual.


As body positivity and body normative trends, what are your thoughts with these movements?
Some brands embody body positivity well, but more often brands are making body positivity only about plus sizes and a hashtag. For me, I think about how does a woman feel when they put clothes on in the fitting room? You go to Zara, get two different sizes and it still doesn't fit. That consistent let down can take a toll on you.

When you are creating clothes with the female form in mind, it keeps you rooted in creating designs that are actually functional for your customers. Women from the ages of 6 to 60 see these cookie cutter images, and our minds are constantly being fed with content that makes us think "how can I look like that"? We have to change that narrative.

One of the biggest points of feedback that I get from customer interviews is that online clothing looks nothing like it did on the model online once it arrives. And I don't think you should want to look like her, let's see more people who look like us so we have a better idea of how things will fit


Are there any brands you want to give a shout out to that inspire you?
Hanifa - she's from Prince Georges County in Maryland and she started her line with very little resources. She now has her own storefront, celebrity endorsements and has changed how we approach fashion digitally. But more importantly, every woman on her site looks different - skin and body. The way her clothes accentuate women's bodies is what I've been looking for all my life.

Follow Buzzoms on Instagram @buzzoms, and join their pre-launch at buzzoms.com.