YOUR GUIDE TO AVOID CROWDS WHILE VISITING GRAND CANYON NATIONAL PARK
Find a slice of the Grand Canyon all to yourself. A guide to hiking, preparing, and enjoying the National Park comfortably. By Unweary Traveler, Jesse Weber.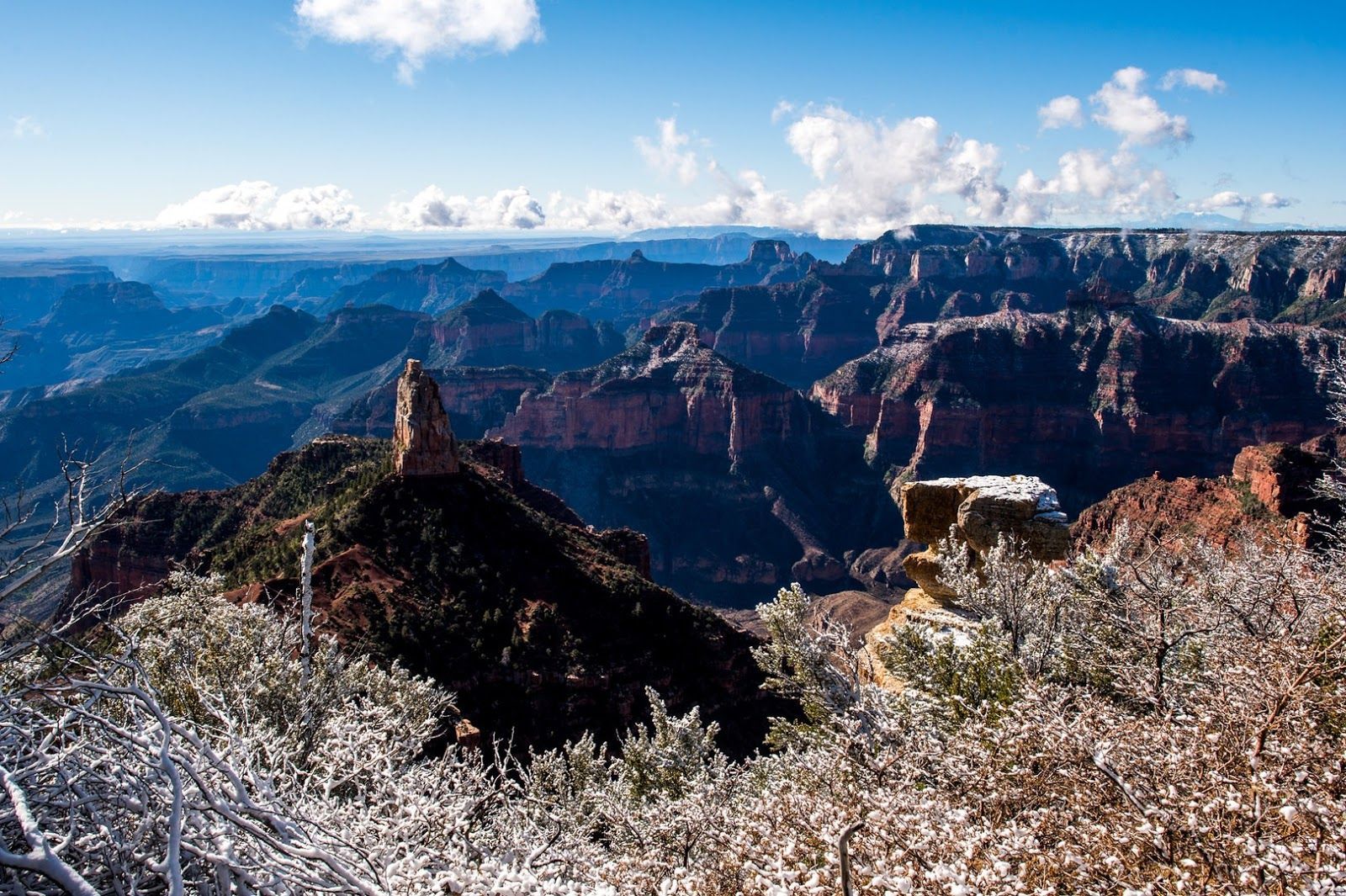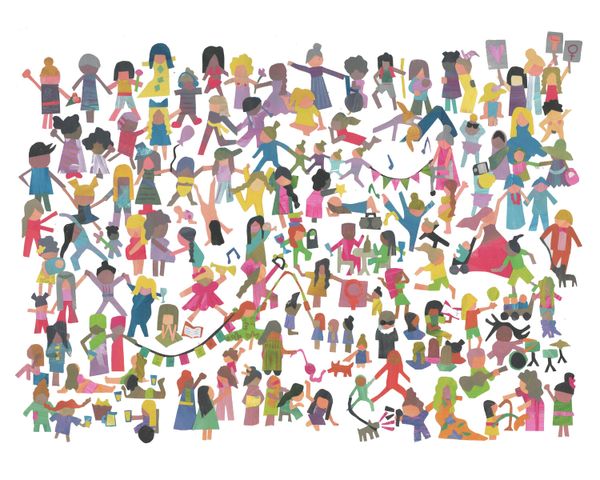 By Jesse Weber, Author of Unweary Traveler

To call the Grand Canyon 'world famous' is almost an understatement. This mile-deep chasm in America's Southwest attracts millions of people a year, and from all over the world. On a busy day at the South Rim, prior to the pandemic, you were likely to overhear as many non-English languages as you were to hear English. That may not be the case in 2021, but more Americans than ever are poised to hit the road for our national parks this summer, and of course the Grand Canyon tops the list for many.

It's fantastic that one landmark can draw together so many different people, but the sheer numbers can be overwhelming. On a summer weekend you might spend a lot of time searching for parking, standing in line waiting for a shuttle bus, and jostling for your turn to take a photo at the overlooks. That's probably not the Grand Canyon experience you seek, but it's likely to happen, unless you know how to avoid the crowds.

The good news is: breaking away is really not so hard, if you come prepared and are willing to put in a little work. Even in 2021, it's possible to find a slice of the Grand Canyon all to yourself. You can ditch the crowds and forge your own adventure, or you can simply sit in solitude along the rim. Here's how.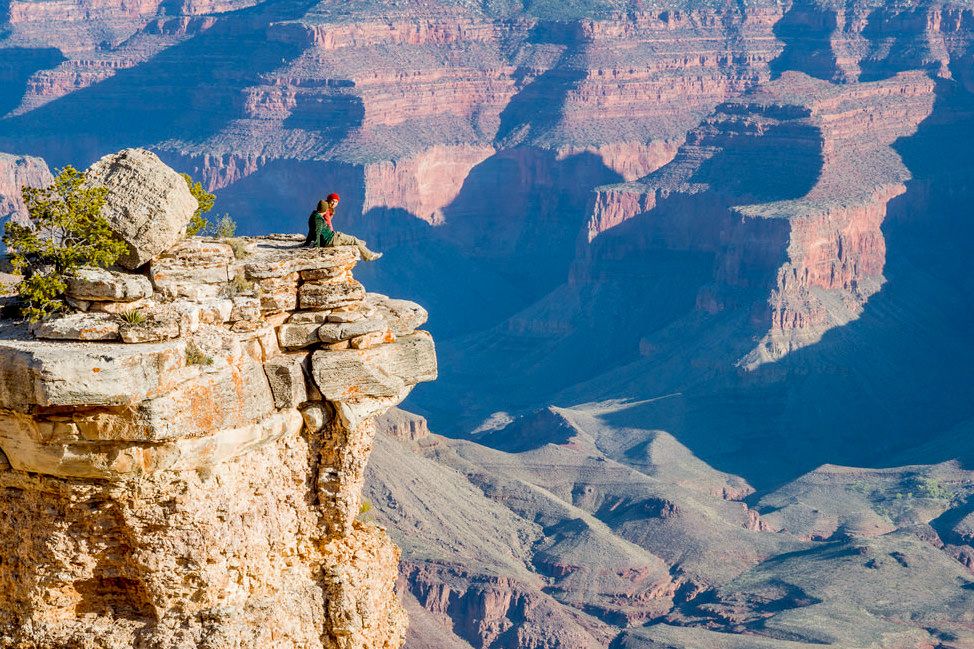 Make a plan and arrive early:
Most people lose a lot of time right away, waiting in the line of cars at the entrance, then searching for a parking spot. To keep that from being you, try to get a very early start on your day. You can beat the line of cars and swiftly pay your $35 entry fee, or save another minute (and potentially some money) by getting an annual pass ahead of time. Try to book a campground or hotel close to the park entrance. Even better is to stay inside the national park, but you'll likely need to think ahead to get a reservation.

You should also plan your days in the park as well as you can. Know where you want to go and how to get there. The main road along the South Rim connects all the major trailheads and overlooks, but parking is not available at all of them. You can probably grab a spot close to your intended destination if you get there early enough, but you can't go wrong just parking at the visitor center, where spots are plentiful, then hopping on the park's free shuttle. The buses can take you pretty much anywhere along the rim, and with an early start you won't have to wait in line to board. Be sure to also check the forecast, and prepare for the changing weather you might encounter during a day at the canyon. Pack up your supplies the night before and get a good night's rest, then you'll be poised to beat the crowds into the park in the morning.

Go for a walk:
The major overlooks on the South Rim are built up with pavement and guardrails, and are filled up with people elbowing for space. However, a short walk is often all it takes to escape into your own postcard-picture setting. The Rim Trail makes it easy to wander and find unpopulated viewpoints. You can also walk or bike along Hermit Road and find spits of rock all to yourself in between the named overlooks. Venturing off-trail and onto rock outcrops is allowed, but you must make every effort to not trample vegetation and fragile soil. Walk only on well-worn paths or on solid rock. And of course, use extreme caution near the edge!

Go for a hike:
If you're up for it, go down into it! The view from the rim is awe-inspiring, to be sure, but true perspective comes only by descending into the immense canyon. Several trails lead from the rim into the depths. As you go down, the walls seem to expand both above and below, and the crowds are left behind. On a typical day, even the most popular trails (Bright Angel and South Kaibab) might be congested in the uppermost mile or two, but almost empty after that. The reason, of course, is that these steep trails are very challenging, and even dangerous during the heat of summer.

Here are some quick suggestions for day hikes, which you might try only if the weather is favorable:

South Kaibab Trail: The most dramatic views in the shortest distance. Descend one mile to Ooh Aah Point, or farther if you're feeling up for. This is not a trail for hot days, because there's no water and almost no shade.

Bright Angel Trail: Perhaps the park's most popular trail beneath the rim. The surrounding cliffs and rock formations are impressive, but views into the broader canyon are somewhat limited. This trail is shadier than most others, and drinking water is available at a few places along the way.

Grandview Trail: A lesser-known alternative to the trails listed above, Grandview lives up to the name, especially if you descend to Horseshoe Mesa, a panoramic plateau about midway into the canyon. There's no water anywhere, even at the trailhead, so fill up your bottles beforehand.

Hermit Trail: Least crowded of all these is Hermit Trail, which is only accessible by shuttle bus. It's a favorite of backpackers for the excellent campsites near the bottom of the canyon. Without going quite so far, day hikers can still see the trickling falls at Dripping Springs, and enjoy solitary views by going any distance out and back on this trail.

On any of these trails, it's easy to forget while cruising downhill that at some point, you'll have to turn around and trudge back up–especially if you've arrived early and are hiking in the cool of the morning. You must anticipate the heat later in the day. Come prepared with not only water, but also salty snacks and sun protection, to keep your body properly fueled for the duration.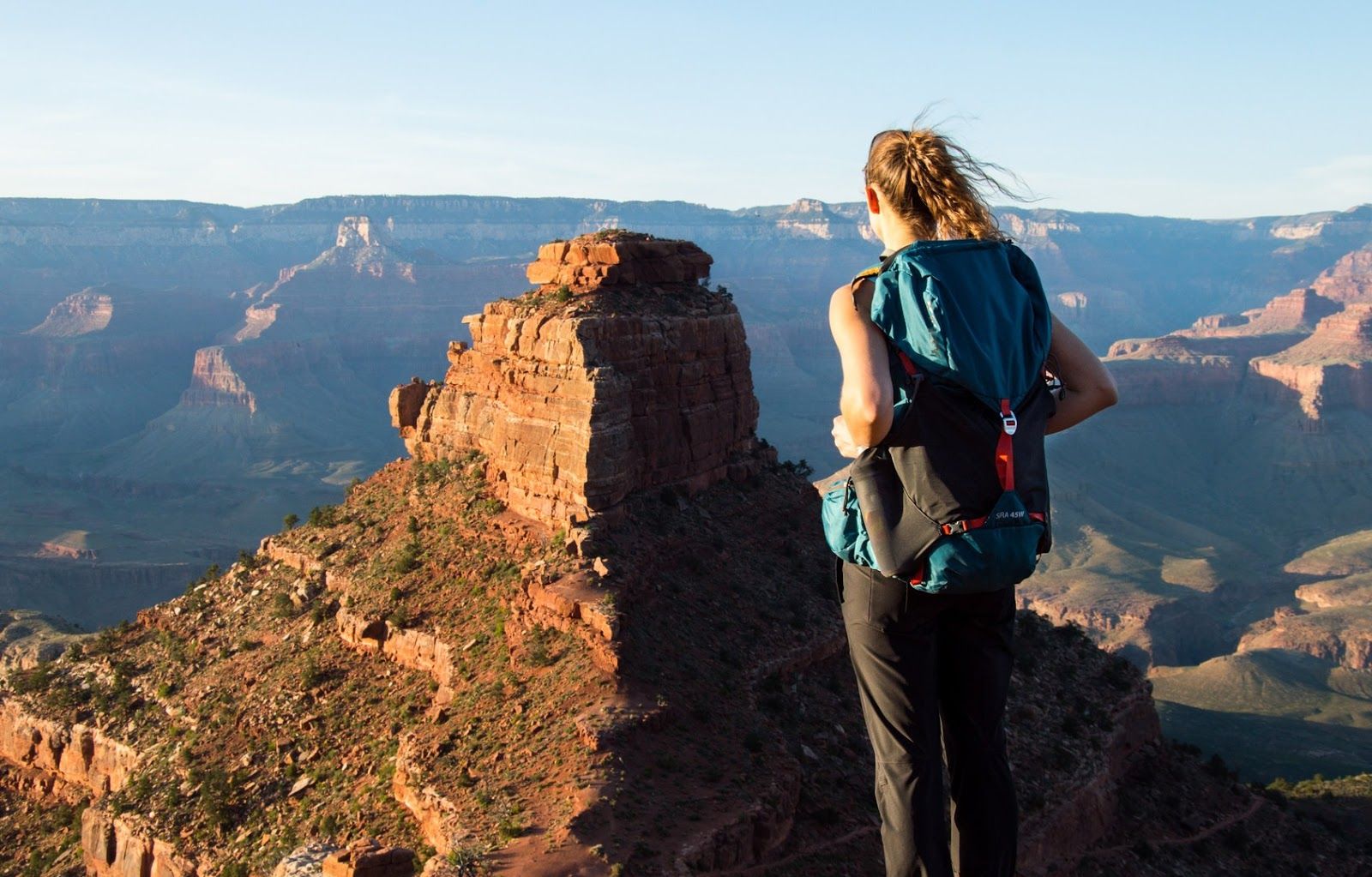 Visit during the off season:
More than 6 million people visit the Grand Canyon in a year, but 50% of them come during just three months–June, July, and August. That's the time when most people can travel, but it's actually not the best time to visit the Canyon. June is the hottest and driest time of year. July and August are hot as well, but also bring afternoon thunderstorms that can easily ruin your day.

With the remaining 50% of visitors spread less densely through the other months, you'll find fewer people and likely better weather if you can go during the off season. Try to visit in spring or fall if you can, when temperatures are cooler and the weather more hospitable. Winter is cold, but crowds are at their fewest and sunny days are plenty. Occasional snowstorms can blanket the rim, and trails are often icy. That makes for some additional hazards, but even more incredible scenery.


Go to the North Rim:
The South Rim is where most people go. It's the main area of the park, and it's most accessible from the interstate. The North Rim, however, is the canyon's other side–much less popular because it's a long drive from just about anywhere. Making the trip out there, and perhaps skipping the South Rim altogether, is worth it because the views from North Rim are every bit as spectacular, if not more so.

Instead of paved roads lining the rim, North Rim has only trails. Even the most casual hikes lead to unbelievable views. In addition to being more remote, North Rim is higher in elevation than the South, meaning cooler summers and snowier winters. It's only open from May to October, so take the opportunity to visit when you can, and maybe save the South Rim for another trip in the colder months.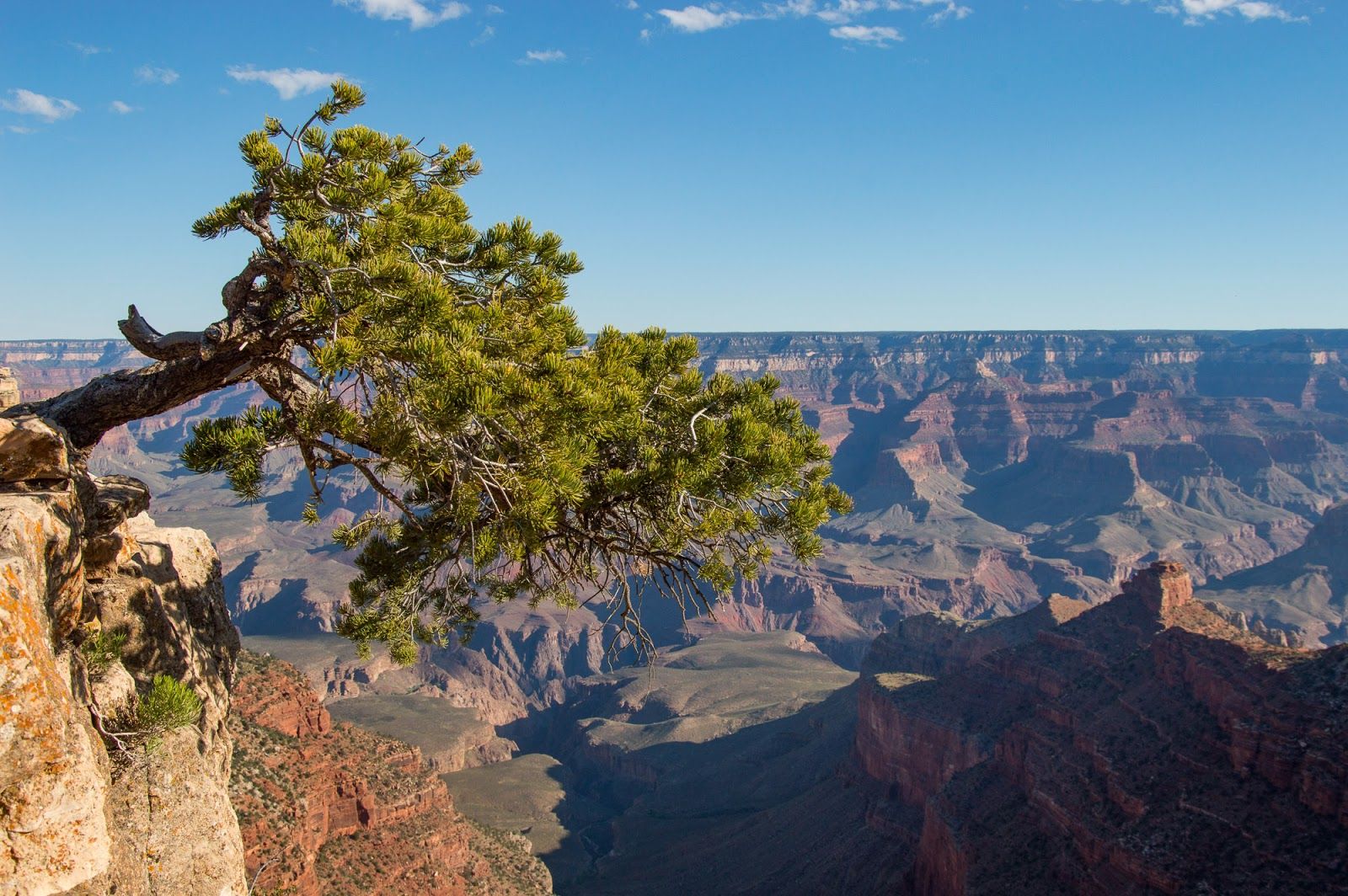 Work for it:
It's true you'll have to do a little work to get away from the crowds at the Grand Canyon. But even here, in one of America's most popular national parks, there are surefire ways to find solitude in the canyon if you put in the effort. All you have to do is try a little harder than the majority of people will. If you can come better prepared, arrive a bit earlier, walk a little farther, or drive a little more, you can earn yourself an even grander adventure in the grandest of canyons.


Bonus Adventures: No matter how far you manage to hike into the Grand Canyon, there is always more to see in this vast and intricate gorge. However, there's even more to do in this region of Northern Arizona that you might explore while you're around. Some are ultra-popular destinations like Horseshoe Bend and Antelope Canyon, both near Page, Arizona. If you seek further separation from the crowds though, you might instead opt for lesser-known adventures, and there are plenty to be found. Here are some suggestions.

Little Colorado River Overlook: On the Navajo Reservation just east of the national park, you can stare down an impossibly sheer chasm, at a tributary of the Grand Canyon flowing below. You can also peruse local Native artwork and jewelry–Navajo craftspeople are famous for turquoise beadwork.

Red Mountain: Along the road between the South Rim and Flagstaff, AZ is a volcanic cone with peculiar geology–reddish rock that's eroded into hoodoos and gullies within a U-shaped natural amphitheater. A 1.5-mile trail leads from the highway into the folds of the mountain.

Cliff Dwellers: Another unique spot with hoodoos is the roadside attraction of Cliff Dwellers, along the highway that leads toward the North Rim. It's an easy but often overlooked destination. A few short trails lead among wild formations–huge boulders balanced atop tiny pedestals, with the towering wall of the Vermillion Cliffs as a backdrop.

Rainbow Rim: If you have the time to drive all the way around to the canyon's North Rim, you'll find even more to do in the Kaibab National Forest, just beyond the national park boundaries. Dirt roads lead to unpopulated viewpoints and trails on the edge of the abyss, and boondock camping is allowed with no fees or permits. However, you absolutely need a capable vehicle and the ability to be self sufficient in these remote reaches of the landscape.​

A note on COVID-19:
The situation with the pandemic remains somewhat volatile this summer. On the Navajo Reservation in particular, regulations may continue to change. Some businesses, destinations, and even some roads may remain closed. Please make an effort to learn and observe any restrictions in the places you travel, and always practice proper safety precautions.


Learn more about the author, Jesse Weber, additional information on traveling to the Grand Canyon on Unweary Traveler and follow along on Instagram @unwearytraveler.
To view more photos by Loreah Winlow, visit: https://loreahjanephotography.mypixieset.com/