NATURAL DYES AND WEAVING WITH THE THREAD CARAVAN
My trip and experience with Thread Caravan's Natural Dyes and Weaving Workshop in Oaxaca - thoughtful itineraries created with immense consideration for local people, their cultures, and the exchange of information.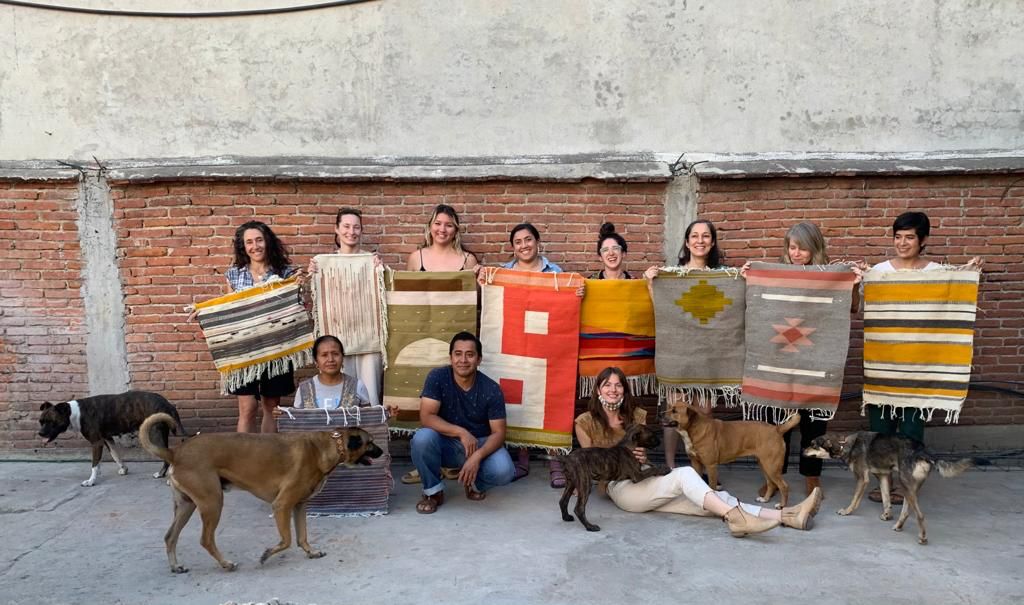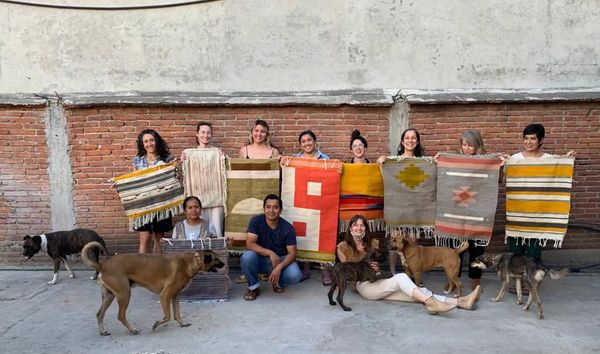 In February 2022, I had the honor and joy of attending a local craft workshop in Oaxaca, Mexico with Thread Caravan. As a long-time fan of the concept and founder, Caitlin Garcia-Ahern, who was interviewed by Travel Under the Radar in 2020 and 2016, participating in a workshop was a gift to myself after the darkest days of COVID-19. Traveling to Mexico was also my first international trip since the start of COVID-19, and my first group travel experience in a decade.

I had quite a few anxieties in anticipation of the trip - having never weaved or seen a loom before, would I suck at it? Would I get along with the other trip participants? What if I contracted COVID along my journey? Will my dog miss me too much? You know, normal stuff!
The trip was inspiring and rejuvenating.

My fears melted as soon as I stepped off the plane in Oaxaca - surrounded by volcanic ridges, a bright blue sky, temperate weather, and eucalyptus trees.
Thread Caravan hosts a variety of art workshops around the world in collaboration with local craft communities. Through a thoughtful and meticulous process, Caitlin coordinates an amazing itinerary for travelers, with immense consideration for local people, their cultures, and the exchange of information. The workshop I attended was the Natural Dyes and Weaving Workshop, which runs a few times a year. All workshops revolve around a local craft - ceramics in Oaxaca, textiles in Guatemala, embroidery in Panama, indigo in Japan, block printing in India, and more (some of these are paused during COVID). Thread Caravan also hosts fiber residencies and digital workshops.

Here's how the trip went!
Arrival Day in Oaxaca:
Arrival day for the group was on a rolling basis, some landing in Oaxaca days before the trip started, or the day of. I was greeted at the airport and taken to the hotel in the center of Oaxaca City with 2 other group participants. We were met at the hotel by Thread Caravan guide, Ana Cris, who ensured we settled in with ease.

After a few hours to ourselves, we met for our first group dinner at Criollo, a beautiful restaurant that hosts an inventive and delicious 7 course tasting menu. Here, we did introductions and went over the schedule. Notable mentions to the jaw-dropping rainbow we saw on our walk to the restaurant at sunset, which I took to be a good symbol for the days to come.  

COVID-19: For this trip, we were required to take a PCR maximum 72 hours in advance of traveling. This was a TC protocol, not a US-MX requirement. We also took DIY antigen tests 12-24 hours upon arrival. During the trip, we wore masks while in vehicles or working closely with the weavers. In general, Oaxacans wore masks even while outdoors and offered hand sanitizer to patrons in the city.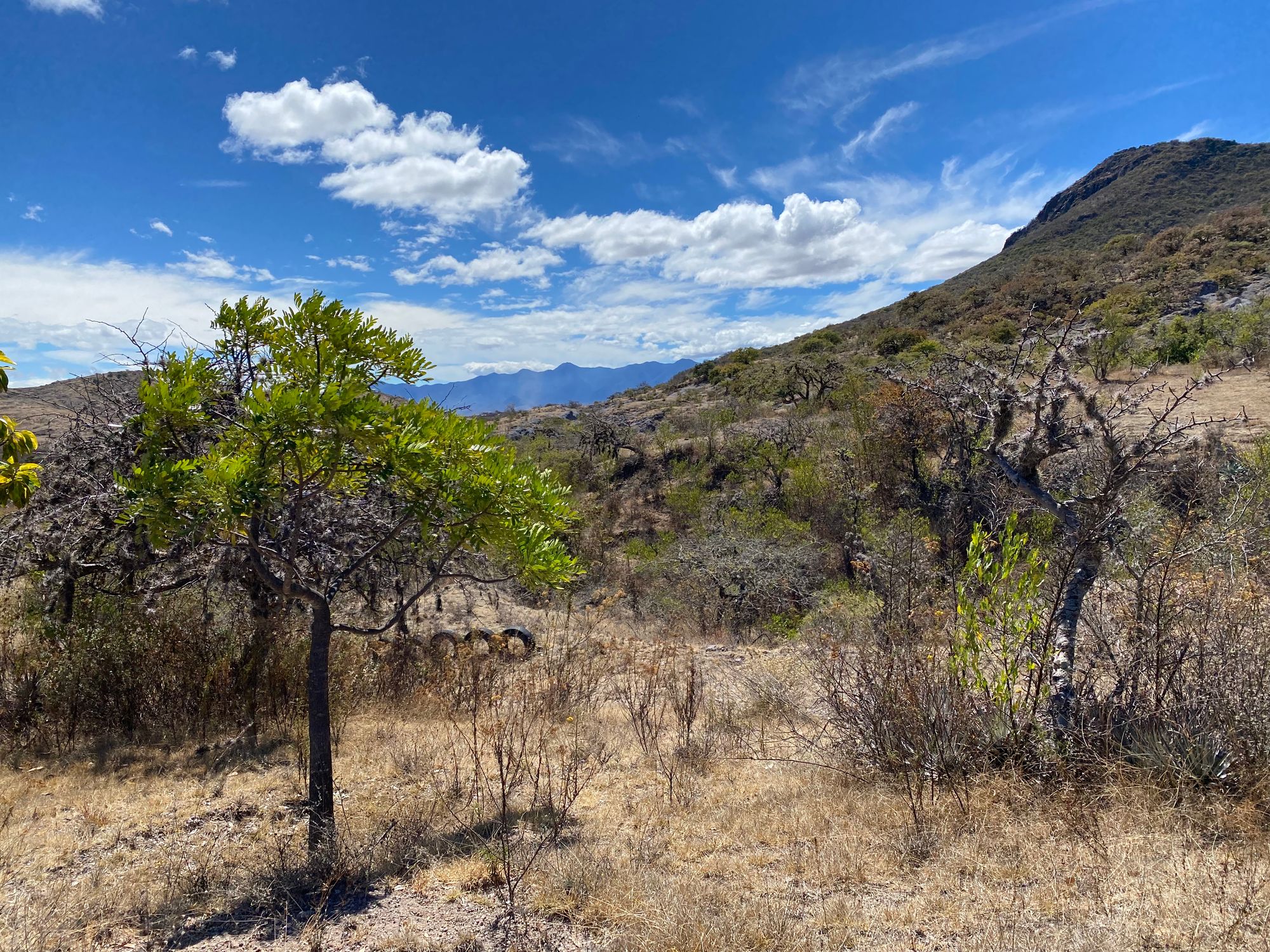 Day 1 in Teotitlán del Valle with Vida Nueva:
Our first full day kicked off with a visit to Teotitlán del Valle, a town 45 minutes east of the city of Oaxaca to visit the home studio of Vida Nueva, an all-women cooperative that creates economic and artistic opportunities for Zapotec women. We spent most of this day learning about the community, visiting the town, and understanding the context of what we were there to create.
Zapotec is an indigenous community to Mexico, with centuries of weaving history. The patterns and techniques have passed down through generations, with symbols and details specific to this region and this culture. The colors seen on rugs and weaves come from the ingredients around them, the natural materials and dyes they create, as well as the process to dye.

In 1996, women in the town created Vida Nueva (New Life) in hopes to gain equal respect and recognition in the town creatively, socially, politically, an economically, with the goal to preserve the Zapotec culture in the process. We spent most of the day with Pastora, a founding member of Vida Nueva, who explained that beyond weaving, this group of women was able to sit with the town parliament and establish independence and a voice to represent women.  
With just this basic introduction, the group was openly touched and impressed with the perseverance and determination in the history of the cooperative, because today they are an economic driver in the community - now hosting visitors, volunteers, tourists alike.
We closed out the day with a scrumptious contemporary take on local cuisine 6-course tasting menu dinner at El Destilado, with cute rooftop vibes.
Day 2 in Teotitlán del Valle with Vida Nueva:
We returned to Vida Nueva's headquarters to focus on natural dyes, dyeing, and coming up with our weaving designs. Having only dabbled in tie-dye at summer camp, I wasn't the most confident going into this activity. But, it was a blast.

As seen on this table - we learned about a variety of natural ingredients that are turned into color dyes. Some dyes are "easier" to make, items like walnut shells, plant leaves are harvested and essentially turned into tea. These can be utilized almost immediately, versus ingredients that are "harder" to process into dyes, like indigo, and cochinilla, the extraction of metabolized cactus juice out of an insect to create a deep, red hue used widely by the Zapotec weavers.

Learning about this was super cool, and such a neat peak into the environment around us. We then learned the technique to dye, the difference between fibers and how they react to colors, how to mix colors, change colors through pH (ie: add lime juice), how to use hot and cold water to set colors, and how to determine the hue you'll get at the end.

I loved this day and only wish I'd brought a suitcase worth of clothes to dye.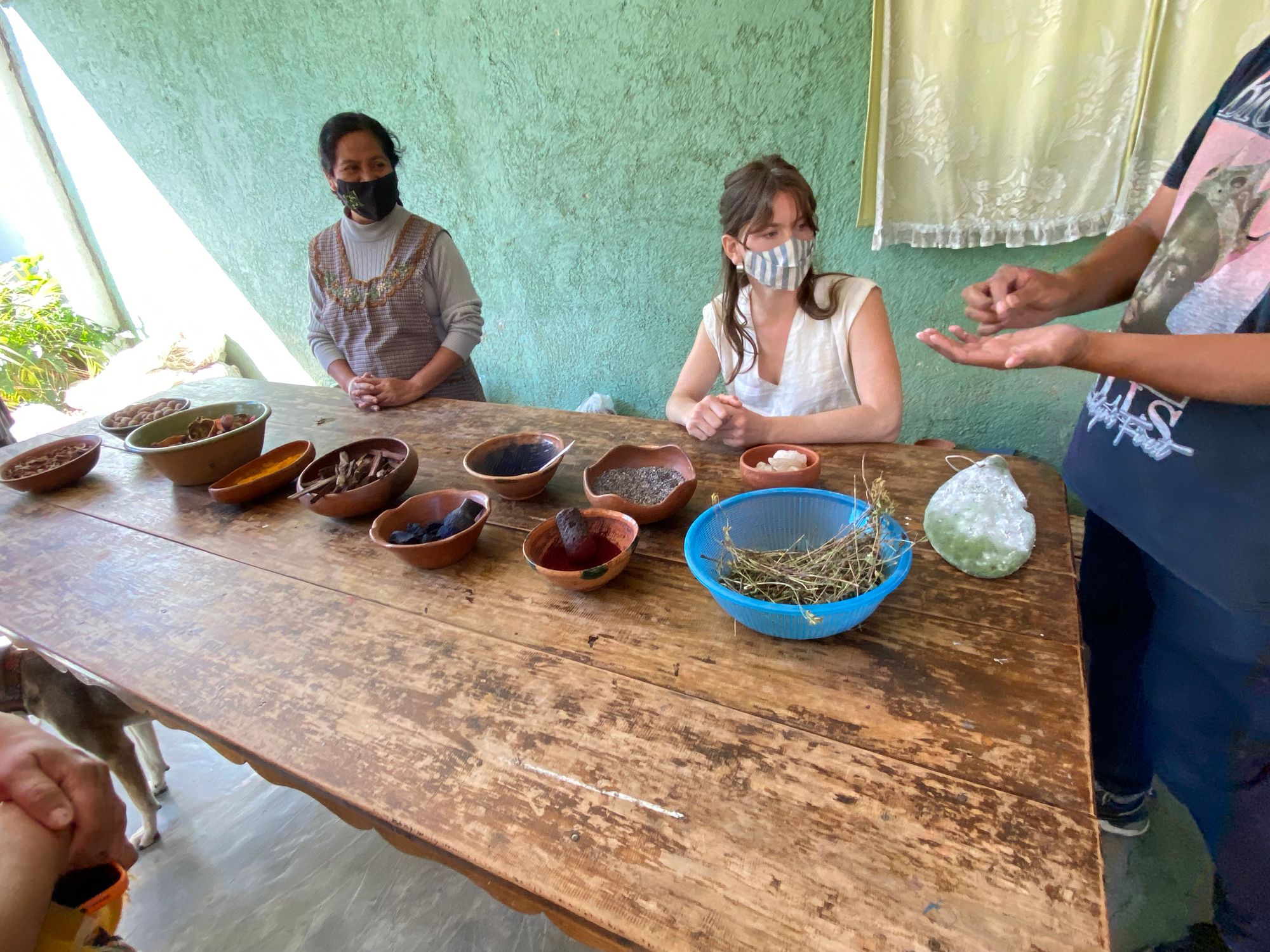 Cochinilla doing it's thing! This red hue (that legit comes from the insides of an insect that drinks the cactus juice from the Opuntia flat-joined cactus), is used in a variety of items we come in contact with often - lipsticks and blushes, clothes, and even in food products like artificial crab, sausage, pastry coloring, and juices.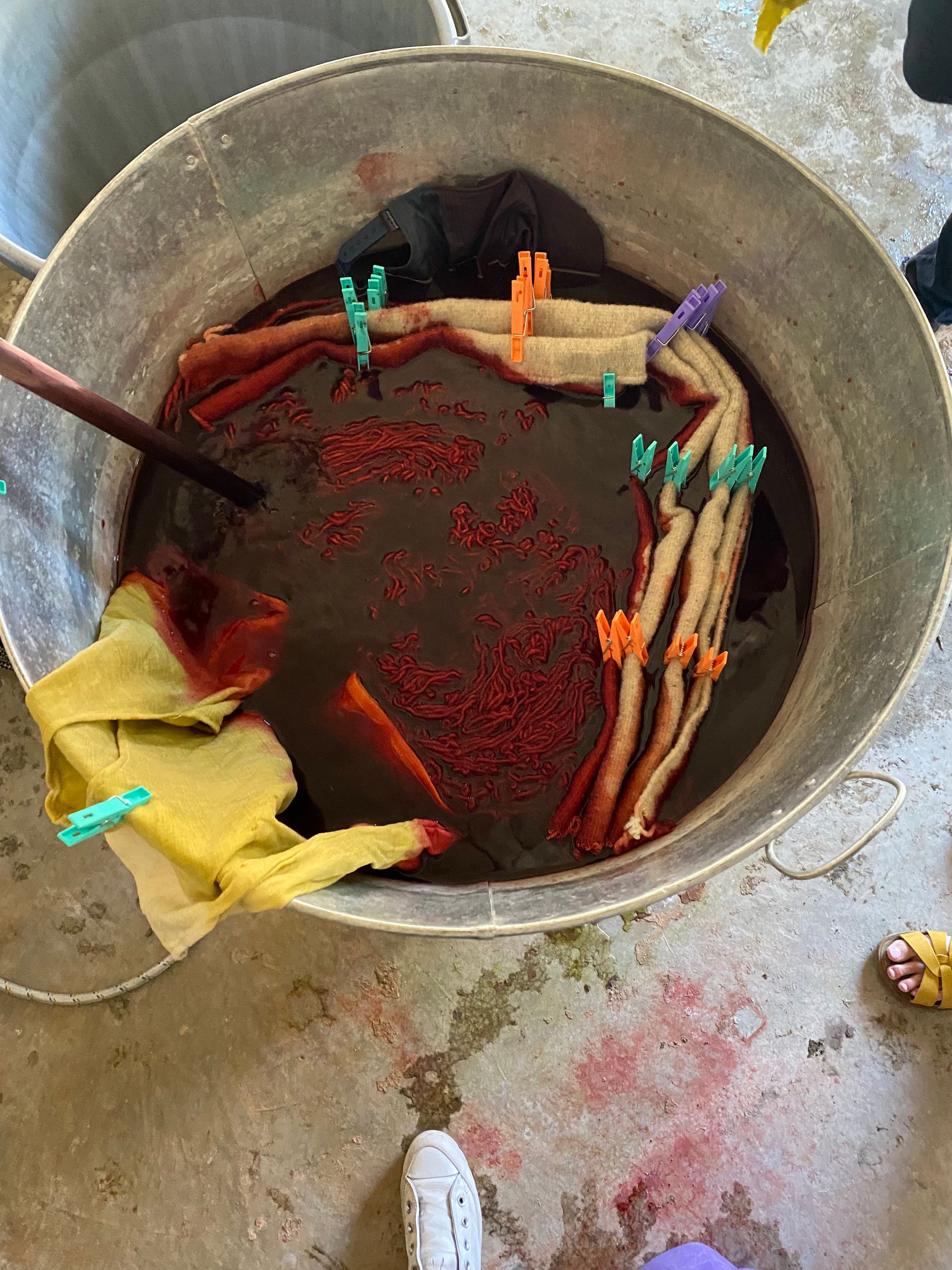 I was embarrassed to admit that I didn't have many white clothes at home, nor clothes made entirely of natural fibers (ie: cotton, wool, hemp, linen) so I experimented with my shoelaces, hat, this wool, and that shirt drying in the back left.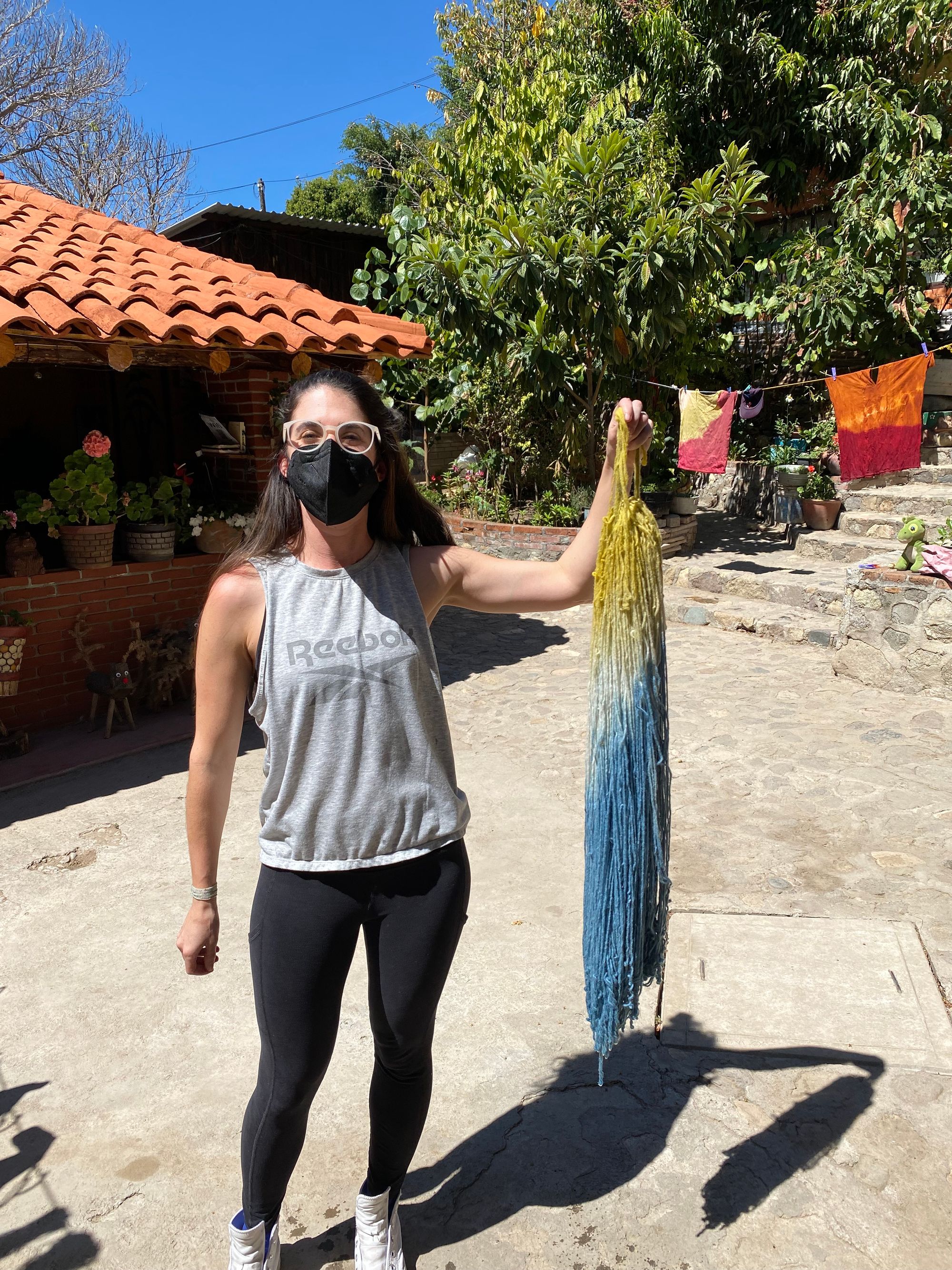 An Ode to Our Lunches:
Though I give mention to the delicious dinners we had each night in the city of Oaxaca, each day in Teotitlán del Valle, we were treated to homemade lunches. These were unique meals that we didn't find in town - nor had I ever enjoyed in the States. Most days we had a new soup to start, my favorite being a garbanzo bean soup with mint, which I made as soon as I got home following this recipe, always served with bowls of squeaky Oaxacan cheese, very picante salsa, and slices of lime. My favorite lunches included chile relleno (stuffed chile with chicken or cheese pattered in egg and fried), these taquitos as seen below (rolled tortilla with chicken topped with delicious-ness), and almost always a new mole sauce.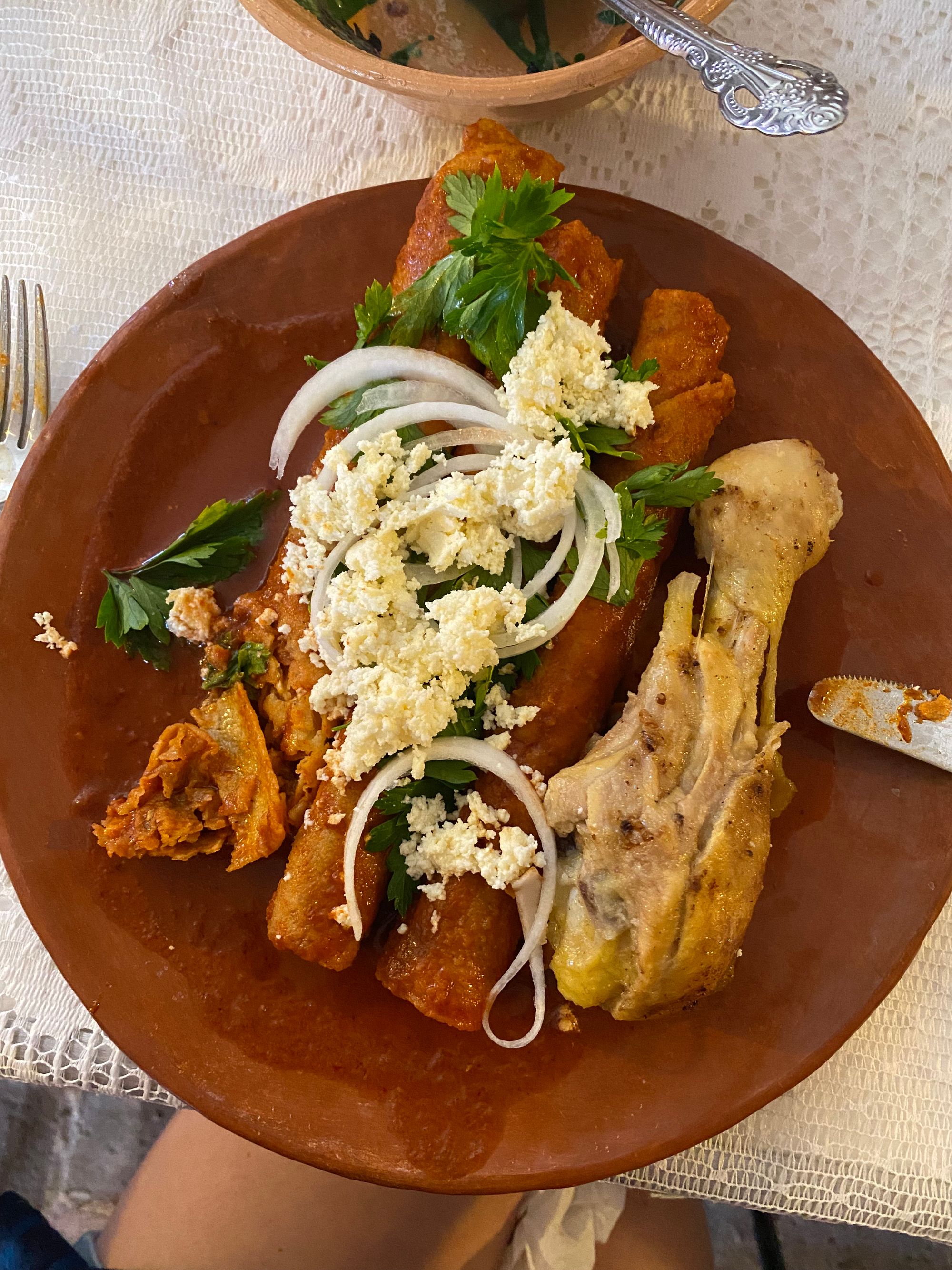 Quick Piece on Zapotec Culture:
I don't know enough about the Zapotec indigenous culture to provide too much information, but this is the group that lived in the Oaxaca region for at least 2,500 years - if not more - and even though Spanish colonialism and Christianity came to Mexico in 1521 and lasted 300 years - we not only witnessed a resurgence to keep Zapotec language and traditions alive, but we also saw the ways Zapotec people engrained their culture even amidst the rise of the Christian faith.

Seen below, a Zapotec tile embedded in the columns of the church in the center of town. Many symbols include the curves and steps to signify the stages of life and cycle between life and death. We learned more about the Zapotec on our last day while touring old caves and discussing traditions like Día de los Muertos.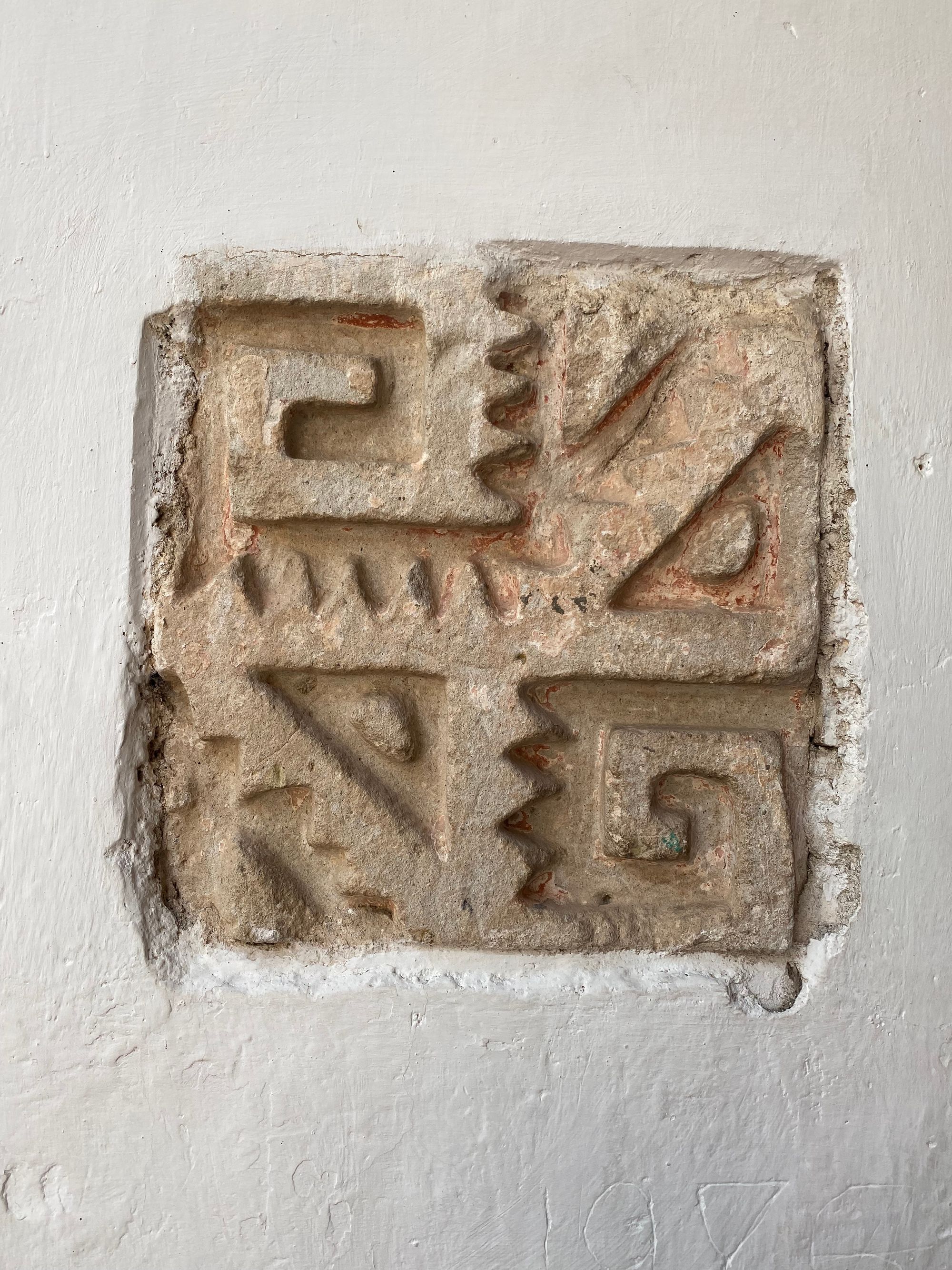 Day 3 in Teotitlán del Valle with Suzy and Pancho:
During the latter part of the previous afternoon, we came up with some designs for our weaving project. The designs could be maximum about 3" x 2" and we could go for rugs, wall art, pillow cases, or bags. Having never weaved, seen a loom, or even conceptualized what it means to weave - I planned to do the most basic thing.
What I liked about the weaving days was that once you got settled on your loom, for the most part we were left to create and enjoy the environment, which was a nice contrast to the previous days of absorbing information.
The day capped off with dinner at Levadura de Olla Restaurante, a fresh take of Oaxacan food (delicious tomato salad) with a cool menu of fermented juices, and neat pottery for purchase.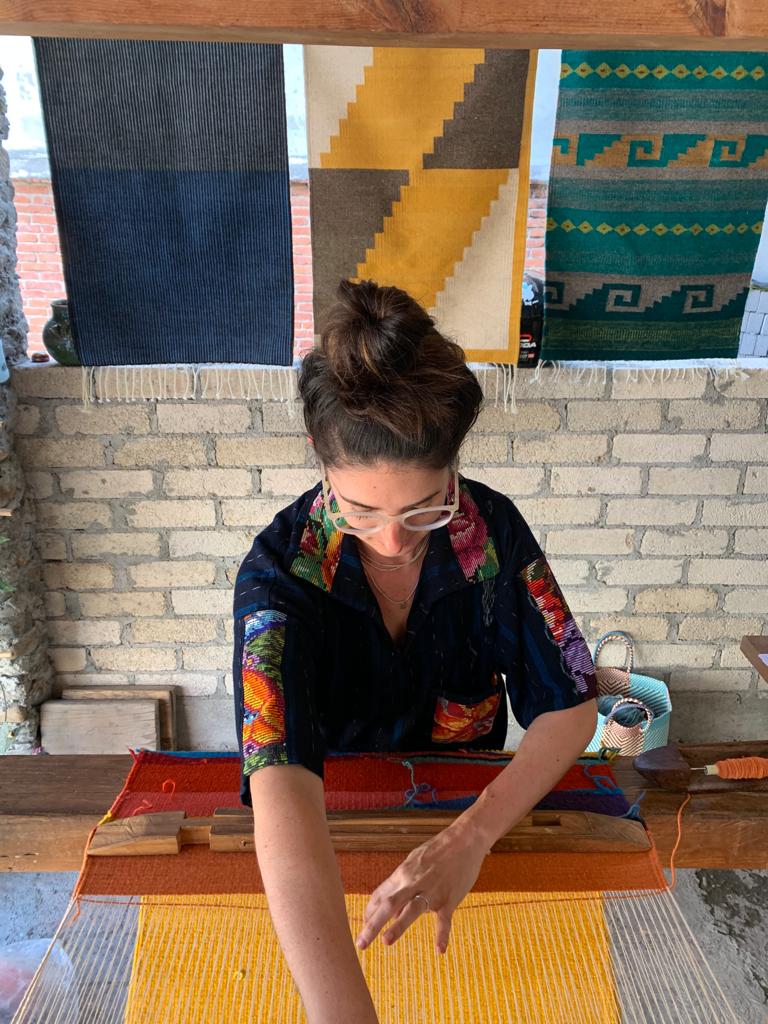 Day 4 in Teotitlán del Valle with Suzy and Pancho:
The second day of weaving was to finish our projects. For those who were far behind, some of the weavers had spent time while we were gone doing a little more of the projects, or for those who had intricate design work, they may have the weavers help them.

My wall hang design quickly deviated from the plan and became an improvisation in colors and angles. I learned (humbly) that I had acquired a knack for quite an advanced technique, though bypassing all the basic skills and abilities that one should know as well. I felt really proud of my creation - seen below: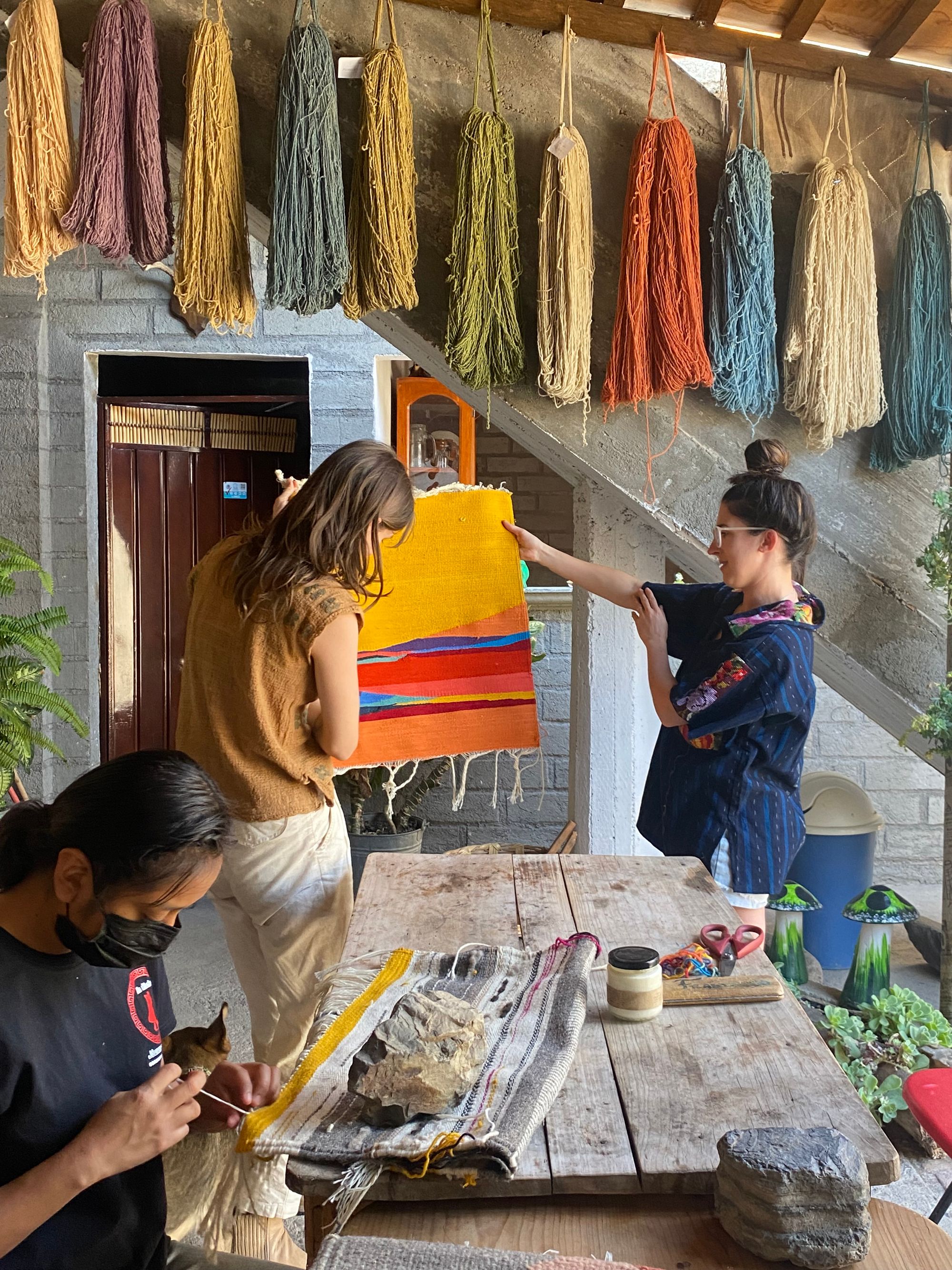 For anyone wondering about the group of travelers, we had a range of people mostly from the States (3 from Canada, Spain/Ukraine, Miami/Brazil), a wide age group (recent college grads to people with teenagers at home), a variety of careers and interests (not everyone had weaving experience), and everyone with a unique personality and reason for being on the trip. All groups are different and mine certainly made my experience fun, comfortable and hilarious.
Our group's weaving projects – a lot of variety, colors, and all incredibly skilled and beautiful designs!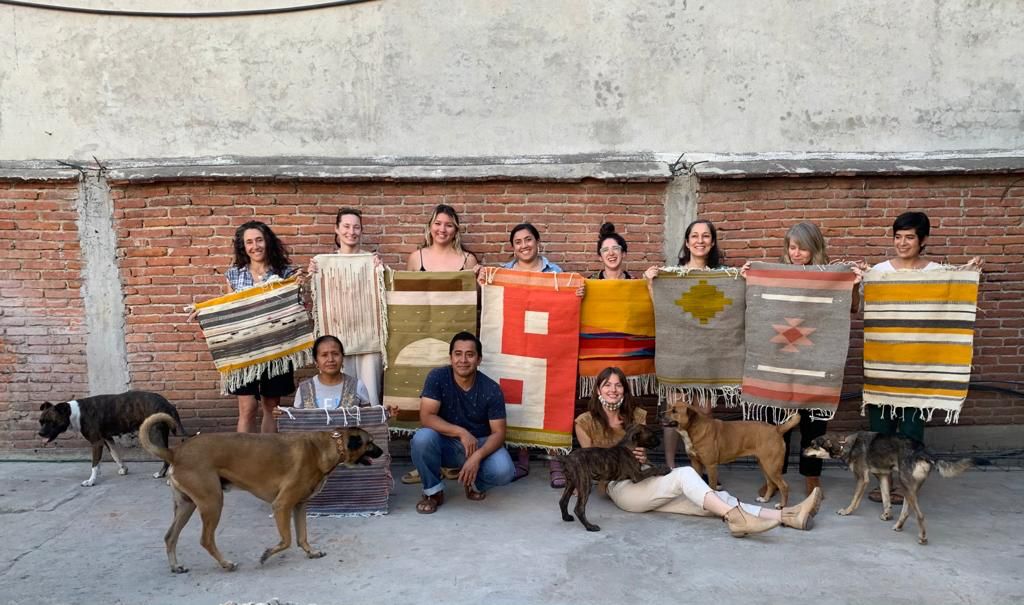 Day 5 in Mitla and Hierva el Agua:
For our final day with the Thread Caravan group, we ventured to the town of Mitla for a morning hike to historic caves, occupied by humans for at least 2,000 years (like 13,000 years ago!) and wow were these amazing. There were still relics of human existence, like ancient cave art, and indication of tools and lives past. It was very special to see this archaeological site.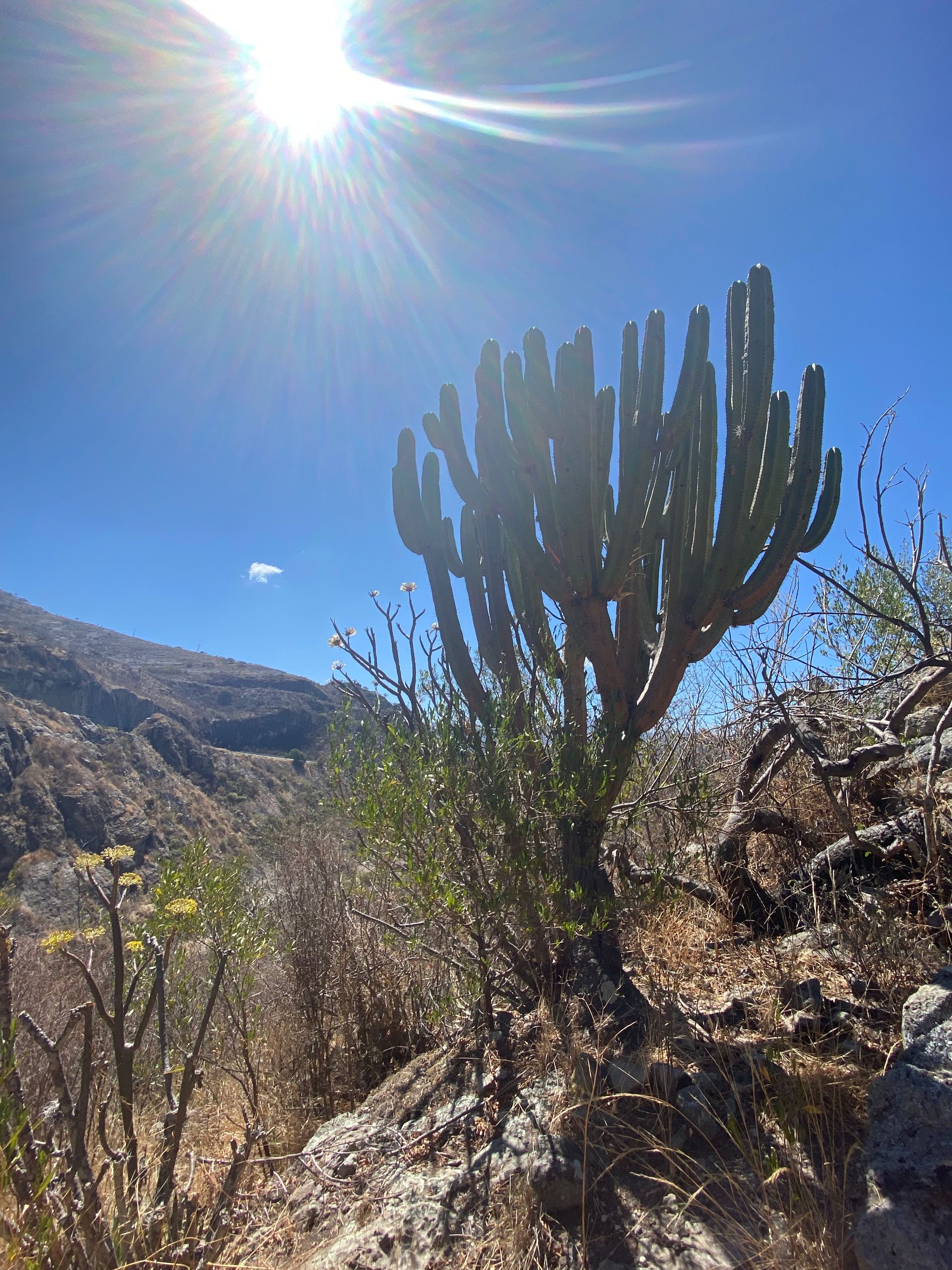 Then we had lunch in Mitla, where we enjoyed tlayuda, a Oaxacan dish, kind of like an open-face quesadilla (though maybe I shouldn't say that!) It's typically a thin, crunchy tortilla, which can be cooked over a flame, which then has refried beans, lettuce, avocado, meat, cheese and salsa. Super tasty when paired with cold, Hibiscus tea!

After this, we spent the afternoon in Hierve el Agua, a very picturesque, relaxing nature destination, which has these neat calcified waterfalls, mineral springs you can swim in, and beautiful views.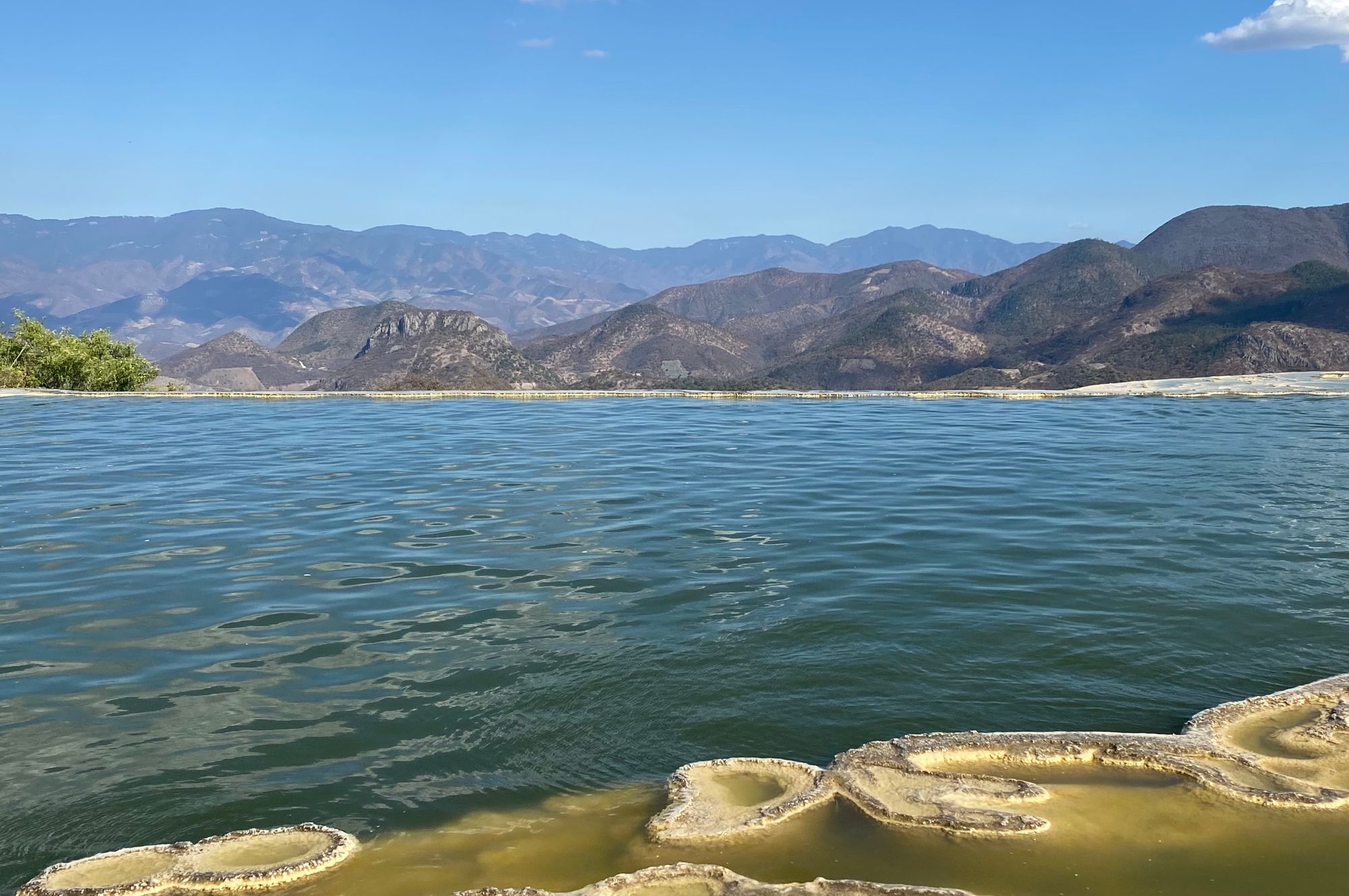 For our final group dinner, we enjoyed our meal at Adama, a Mediterranean restaurant with seating in a cute courtyard. At this point, we were all slightly exhausted but most importantly, at-ease and happy with what we'd accomplished, and the bonds we'd made with each other over the workshop.
A Note on All The Cute Dogs:
Throughout the trip we had the joy of interacting with all the dogs, the cute pups at Vida Nueva, Suzy and Pancho's, and Caitlin's dogs and foster pups. Caravana Canina is a partner organization to Thread Caravan that spays and neuters street dogs to help with neglect, abuse and population control. Dogs are all vaccinated, fostered and adopted on a case-by-case basis out of Mexico and Guatemala. These dogs made my day, and I would be remiss if I didn't give this initiative the shout-out it deserves for doing important, selfless work.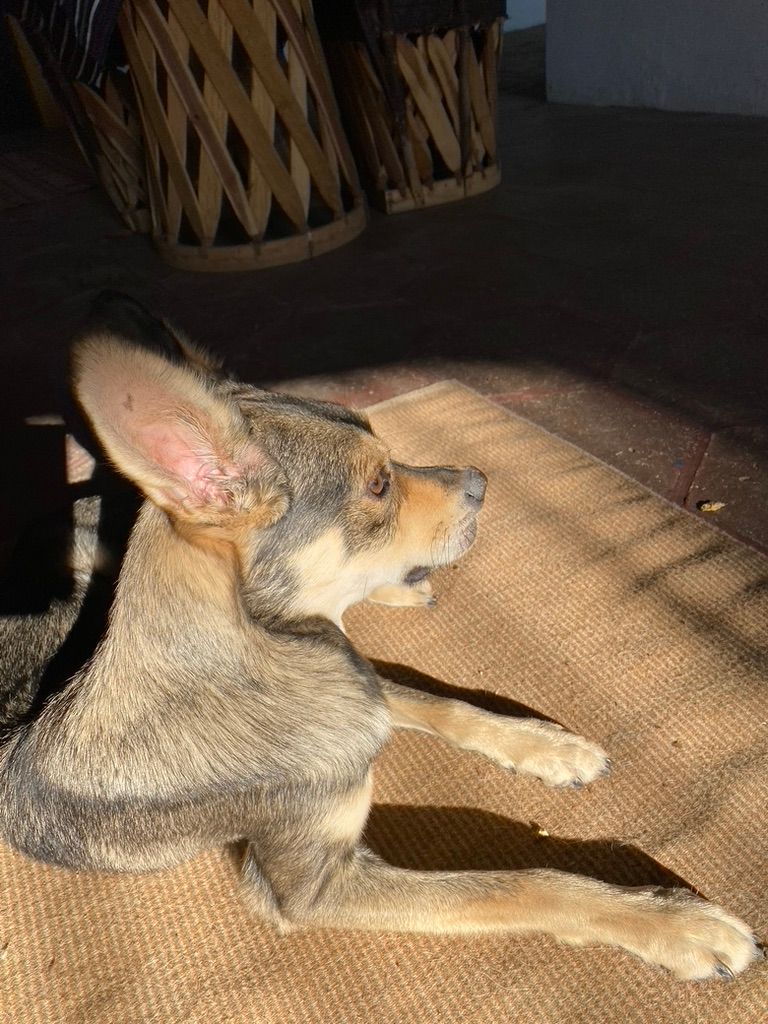 Day 6 an Extra Day Before Returning to Winter:
COVID-19: To return to the States, the requirement to fly was an antigen test 24 hours in advance of traveling. Options were available to have medical testers come to your hotel (about $50), or you could go to a clinic (about $17). I chose the clinic option and it was very efficient. These rules change all the time, so please check the embassy website for the most up-to-date COVID-19 requirements based on the country you plan to travel to and from.
From my perspective, it can be both daunting to travel without any plans, as well as with a completely planned schedule. What I liked about Thread Caravan's itinerary was that it was okay if we didn't want to do it all. There were a few people who skipped out of full days of weaving, dyeing, or the dinners. I didn't miss a thing because I struggle with #fomo, but there was no expectation that you had to do it all, and that was reiterated throughout the trip.
As for extending travel before or after the dates of the workshop, I only stayed an extra day in Oaxaca, but a few people stayed through the weekend and got to do more city oriented activities and shopping.
Collectively the most was made of the extra time in Oaxaca:
All in all, a delight of a trip– it rejuvenated my travel spirit, reminded me that I love going to new places and meeting new people (a skill and desire I tucked away throughout the pandemic), and mostly - I was impressed and happy to participate in what I deem and believe to be responsible tourism - a way to travel, learn and enjoy while still preserving culture and the environment. Thank you Caitlin, and thank you Thread Caravan!

Follow along @threadcaravan.